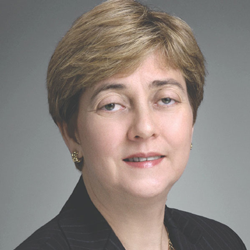 Everything we have accomplished now and in the future can be attributed to two things: our dedicated employees, past and present, and our clients who invest their trust in us. I am incredibly grateful.
CORAL GABLES, Fla. (PRWEB) February 14, 2023
ERMProtect is honored to celebrate 25 years in business with its partners across the globe this week. Launched in 1998 by its founder, Silka Gonzalez, ERMProtect has remained true to its mission. With a laser focus on protecting individuals, organizations, and society through comprehensive information security, ERMProtect has served hundreds of clients in over 40 industries throughout the last 25 years.
Based in Coral Gables, ERMProtect can attribute its success to three core elements: its professionals, its clients, and keeping a finger on the pulse of rapidly changing technology. The company's internal team pairs its extensive knowledge of cybersecurity with the highest standards of ethics to provide unparalleled services. ERMProtect's valued clients invest their trust in the organization, knowing that their most critical assets are safeguarded from present and future threats.
In the cybersecurity industry, being keenly aware of evolving technologies is paramount to providing high-quality services. ERMProtect has proven to be ahead of the curve time and time again over the last 25 years. As the landscape of information security continues to change, ERMProtect will remain a guiding light for its clients and the industry as a whole.
While ERMProtect impresses for all of the above reasons, the most notable of them lies in its commitment to doing good. The company culture is one that recognizes that doing good work for humanity is powerful and meaningful. With core values of trust, ethics, service, passion, excellence, and a can-do attitude, the team at ERMProtect takes pride in their work and the impact that they make each day.
For more information, please visit https://ermprotect.com/.
About ERMProtect Cybersecurity Solutions
Founded in 1998, ERMProtect has grown from a small group of professionals focused on IT assessments to a thriving business providing a full suite of cybersecurity services to more than 400+ clients in 40+ industry verticals. The company's services include penetration testing, IT risk assessments, PCI & data compliance assessments, incident response, digital forensics, cryptocurrency investigations, security awareness training, SOC2 audits, and consulting. The company is only one of about 20 in the world certified by the Payment Card Industry to conduct credit card breach investigations.