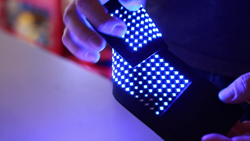 New technology has made it possible for us to apply true video streams to the body, enhancing safety in urban spaces, beauty in design spaces and more.
San Francisco, CA (PRWEB) August 26, 2013
Erogear, a leading provider of large-format wearable display technology today announced a new product line named "Fos." These new devices are fabric patches each containing a high-brightness LED grid and Bluetooth for wireless display of 16-bit graphics, text and animations from any Bluetooth Classic or Low Energy device. Based on a new architecture, Fos averages less than 2mm thick, weighs 32 grams and is flexible as typical fabric.
Fos can be programmed to display GPS-guided turn signals, athletic statistics and other imagery on-demand and in real-time. Cycling visibility is increased as Fos displays animated content unique to the user, while music-lovers can share sound-reactive designs with one another. Promoters can engage local and remote participants via social network messaging.
The Fos line can be tiled both horizontally and vertically, providing a scalable solution for visibility and event participation. The devices are encased in fabric and lined about the perimeter with 0.5in Velcro® for easy application to and removal from garments and shoulder bags. A thin hidden wire protrudes from the rear and connects to a diminutive Lithium-Ion battery pack.
Erogear has provided an API with companion app for Android®-based tablets and mobile phones, with iOS® and desktop support to follow. The API provides a simple means for app developers to connect and send their imagery to Fos devices at up to 60 frames-per-second, an industry first.
"Wearable electronics have long been an interest in the apparel industry, and Fos is the first comprehensive solution to the issues of capability, wearability and cost," said Anders Nelson, Principal of Erogear. "We took what we learned from previous designs and applied new techniques to ensure the lowest profile and a beautiful, easy-to-use product. New technology has made it possible for us to apply true video streams to the body, enhancing safety in urban spaces, beauty in design spaces and more."
Pricing and Availability
Fos has been priced to meet the demands of cyclists, runners and music lovers everywhere. A single-height unit with 32x8 pixel grid is priced at $149, a double-height unit with 32x16 grid is priced at $299, and a bespoke leather belt with 96x8 grid is available for $599. All packages come with everything required and are available now through Erogear's Kickstarter campaign linked here:
Follow Erogear
Facebook: http://www.facebook.com/erogear
Twitter: http://www.twitter.com/erogear
YouTube: http://www.youtube.com/erogear
RSS Feed for Erogear News: http://www.erogear.com/cg/rss
About Erogear
Erogear is a leading designer of wearable display solutions in the consumer and professional space, providing comprehensive wearable solutions for diverse applications around the world. Since 2008, Erogear has provided the highest resolution wearable video platforms at the lowest cost and is currently the only company to cater to mass market. Erogear is headquartered in central San Francisco, California.
Editorial Contact:
Anders Nelson
+1 (650) 416-6776
anders(at)erogear(dot)com
Hi-Res images available here: http://bit.ly/125K1SR .