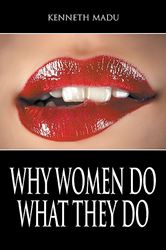 "You won't be able to put it down! The author's erotic story peeks behind the façade of what makes women tick. This one is not for the timid or shy." - Robert Fletcher, CEO, Strategic Book Publishing and Rights Agency
NEW YORK (PRWEB) April 14, 2020
This brutally honest memoir is about love, hate, betrayal, sex, rape, and abuse.
From his first sexual encounter with his nanny, author Kenneth Madu leads a crazy, sensual existence. His life moves from one woman to another, finally settling into a relationship with two gorgeous women. Both of them possess feral instincts when seeking out their prey with everything they have. Kenneth happens to be their prey, and the two women are mother and daughter!
From Holland to Africa to New York, this highly erotic true story dissects relationships, as well as what makes women from different cultures tick.
He says, "I have been running scared most of my life. That's why I went for the gold with everything that I ever did. That's why it had always been all or nothing with me. I had spent my whole life living like there was no tomorrow."
The biggest question in his life? "Why Women Do What They Do," of course.
Watch the video book trailer at: https://youtu.be/_PzqIhY3Q2U
About the Author: World traveler Kenneth Madu grew up in Amsterdam, moved to Africa, went to school in England, and now lives in New York. This is his first book.
"You won't be able to put it down! The author's erotic story peeks behind the façade of what makes women tick. This one is not for the timid or shy. Look for its release," said Robert Fletcher, CEO of Strategic Book Publishing and Rights Agency.
WHY WOMEN DO WHAT THEY DO (ISBN: 978-1-948260-54-1) is now available for $14.99 and can be ordered through the publisher's website:
http://sbprabooks.com/KennethMadu or at http://www.amazon.com or http://www.barnesandnoble.com.
WHOLESALERS: This book is distributed by Ingram Books and other wholesale distributors. Contact your representative with the ISBN for purchase. Wholesale purchase for retailers, universities, libraries, and other organizations is also available through the publisher; please email bookorder@sbpra.net.