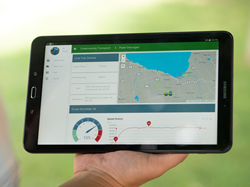 SAN DIEGO (PRWEB) April 23, 2020
eSAT Global, Inc. ("eSAT") a developer of low cost, real-time satellite IoT connectivity solutions today announces its partnership with Transport Genie Ltd, creator of the "Transport Genie", a multisensory device monitoring health and welfare of animals in transit. Together they will work to make this ground-breaking technology available anywhere in the world at any time.
Transport Genie is a precision monitoring company that is focused on monitoring microclimate conditions as animals are being transported. It has developed bespoke IoT sensors and a real-time event-driven ecosystem to enable smart decisions regarding livestock welfare during transport.
Transport Genie is already delivering improved welfare to animals in Canada, Switzerland, Netherlands, and the Philippines. Maintaining the welfare of animals is of concern right around the world.
The initial phase of the project will result in large scale field trials of eSAT's direct-to-GEO-satellite communication modules integrated with the Transport Genie solution. Trials are expected to be begin in Q4 of 2020 and global availability expected in 2021.
Transport Genie CEO Joel Sotomayor said, "Until eSAT came along we were trying to figure out a cost-effective way to deliver our solutions across the globe. eSat will provide us with global coverage and the low latency we need. We have been searching for a satellite connectivity solution with that will meet the power usage, latency and cost levels we have come to expect from terrestrial solutions. We expect that not only will eSAT deliver ubiquitous connectivity, it will come in a form factor and at a price that is required for our solution to compete in every market."
Rick Somerton, eSAT's Regional Director ANZ remarked, "We are excited to have so much interest in our technology from the Agtech sector, especially from industry leaders like Transport Genie. Transport Genie's products are without peer and we look forward to supporting them as they deliver improved animal welfare around the globe."
About Transport Genie Ltd.
Transport Genie is a precision monitoring company that is focused on the humane transportation of livestock animals. They have created their own bespoke sensors to monitor local environmental conditions and have become world leaders in the monitoring of animals while they are in transit. Their solutions offer real-time communications and they have the ability to automatically turn on or off equipment found in the trailer in order to minimize the impact of transportation and reduce driver intervention. Their solution is focused on ensuring business continuity and supply chain assurance.
For more information, visit http://www.transportgenie.ca
About eSAT Global
eSAT Global's mission is to bring disruptive direct-to-satellite connectivity to low cost IoT devices. The direct-to-satellite connectivity solution is built around eSAT's patented architecture using existing and highly reliable GEO MSS satellite platforms. Designed from the ground up for Internet of Things (IoT) applications, the eSAT solution requires no terrestrial infrastructure or back-haul, while providing global coverage. IoT devices equipped with eSAT communications modules directly communicate with GEO MSS satellites at a transmit power level comparable to that of a car key fob, enabling years of operation on a single battery The eSAT system's unique combination of low cost, low latency, and global coverage is not matched by any other existing or proposed IoT connectivity solution, including the many proposed Low Earth Orbit (LEO) satellite systems.
For more information, visit http://www.esatglobal.com
For further information contact:
Rick Somerton
Rick.somerton@esatglobal.com
+61411758973