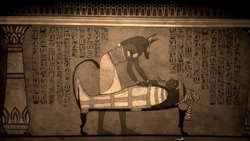 Austin, Texas (PRWEB) May 22, 2017
Ancient Egyptian-Themed Escape Room Delivers Modern, Interactive Fun at Maze Rooms Austin
Maze Rooms is excited to introduce its latest escape room game Pharaoh's Tomb to the Austin, Texas community. "Keep Austin Weird" is one of the Texas capital's famed slogans that reflects the city's love of creativity and originality in business and the arts. Almost nothing gets creative problem-solving skills going like an escape room game, and Pharaoh's Tomb at Maze Rooms Austin Texas has all the elements of a thrilling adventure.
Ever wonder about the technology that was used to build the famous pyramids of Egypt? Since the Royal Library of Alexandria burned down, many thought that those secrets along with others were lost forever. It wasn't until an archaeology professor disappeared while hunting the treasures of Egypt that modern-day adventurers began to think it possible that the pharaohs took the mysteries of ancient Egypt with them to their graves. The Egyptian pharaohs were clever, however, and prying the secrets from their mummified hands will take teamwork, logic and critical thinking skills. Those who are up for the challenge should book a game room session for Pharaoh's Tomb at Maze Rooms Austin right away.
Pharaoh's Tomb at Maze Rooms Austin Texas is designed for two to six players, and participants have an hour to decode clues, capture keys and escape from the room with the pharaohs' secrets. Escape rooms in Austin, Texas are categorized by their level of difficulty, and Pharaoh's Tomb is one of the advanced escape rooms in Austin, Texas. Brent B., who was invited to test out the new game at the Austin location, said, "the set-up, props/gadgets and design [of the game] are superb."
About Maze Rooms
Rachel and Victor Krylov own and operate Maze Rooms franchise in Austin, Texas. The interactive gaming experience, which is growing in popularity with family, friends and co-workers, is designed to be a mental workout as well as an unforgettable social outlet.
MAZE ROOMS AUSTIN
5555 N Lamar Blvd, K110
Austin, TX 78751
(512) 541-1640
austin(at)mazerooms(dot)com
Source: mazerooms.com