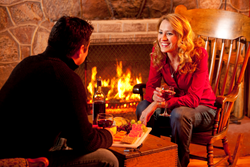 DOOR COUNTY, Wis. (PRWEB) October 30, 2018
Enjoy the simple tranquility of Door County, WI. When the weather gets cold relax indoors with a sip of coffee and listen to the gentle roar of a fire inside a quaint bed and breakfast. Visitors can plan their vacation today at DoorCounty.com or by calling the Door County Visitor Bureau toll free at 800-527-3529.
November Events

Run 1, 2, or 4-miles at the Door County Turkey Trot, November 3.
Admire beautifully decorated Christmas trees at the Merry-Time Festival of Trees at the Door County Maritime Museum, November 10 - 30.
Celebrate the holiday season at Christmas by the Bay in Sturgeon Bay, November 16-18. The weekend includes a tree lighting, parade, and breakfast with Santa.
Sip hot cocoa while watching the Thanksgiving Parade in Jacksonport, November 22.
Sing Christmas carols and enjoy fun holiday activities at Egg Harbor's Holly Days and Sister Bay's Capture the Spirit, November 23-24.
For more events visit, DoorCounty.com/events
Did you know?
Door County has approximately 31,000 acres of permanently protected land.
On-Going Fall Activities

Shopping – Purchase early Christmas presents at unique boutiques.
The Flour Pot LLC – Learn how to make a traditional Belgian pie.
Door County Coffee & Tea – Choose from over 100 flavors of coffee to warm up with.
Make Your Own Art – Visit one of the many studios to create one of a kind artwork.
Spas – Pamper yourself with a relaxing spa day.
Sister Bay Bowl – Get a strike at a vintage bowling alley.
Door County Land Trust - Take a refreshing hike on a beautiful fall day.
Can't Miss Arts & Culture Event
Southern Door Community Auditorium hosts the duo Switchback who perform a mix of Americana and Irish music, November 16.
####
Door County is located in the northeast corner of Wisconsin. Surrounded by Lake Michigan, it is one of the top leisure travel destinations in America. Door County features 300 miles of shoreline, 34 named islands, 11 lighthouses and 5 state parks. It is known for its natural beauty, artistic offerings, outdoor recreation and local cuisine and offers scenic seaside experiences in the heart of the Midwest.