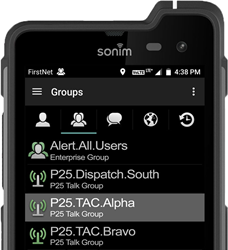 SAN LUIS OBISPO, Calif. (PRWEB) January 23, 2019
ESChat today announced commercial availability of its latest server release, which includes enhanced P25 Inter-Sub System Interface (ISSI) support for P25 Phase II trunking systems. Also included in this release is support for TIA-102 compliant Key Management Functions (KMF) encryption re-keying.
ESChat had previously deployed ISSI based interoperability for P25 systems in March of 2017. Support for P25 encryption over ISSI was added later in the year, however the initial release required encryption key loading be performed via ESChat's key-loader utility application.
"This release is significant for a number of reasons," said Josh Lober, Chief Executive Officer, ESChat. "On the KMF side, we have a number of existing deployments with contractual obligations to support OTAR re-keying, including the Dallas Fort Worth (DFW) Airport. As for P25 Phase II support, we have a number of orders pending which we are now able to fulfill".
Support for P25 Phase II over ISSI and KMF re-keying are the latest elements to a larger set of system enhancements. Other ESChat features recently added include; Client-Side Playback, Emergency Group Calls, Listen Only Group Members, Configurable Idle Timeout and Hierarchical Departments.
ESChat will be demonstrating these and other advanced Broadband Push-to-Talk features at the International Wireless Communication Expo (IWCE) in Las Vegas, NV, which takes place March 4th – 8th.
About ESChat:
ESChat (http://www.eschat.com) is the leading solution for carrier independent Secure Broadband Push to Talk (PTT). ESChat includes AES-256 encrypted PTT voice and multimedia (text and image) messaging. ESChat also provides live and historical (bread crumb) tracking and mapping. ESChat is a FirstNet Certified™ solution, offering Quality of Service, Priority and Preemption (QPP) to FirstNet subscribers. ESChat supports Quality of Service (QoS) enhancements on the Verizon Wireless (via PNTM) and AT&T commercial networks (via DTM). Currently used by all branches of the U.S. Military as well as Federal, State and Local public safety agencies, ESChat is able to operate over and across any wireless network, including all commercial carriers, private 3G/4G networks and WiFi. ESChat supports interoperability with all LMR radio networks, including P25 via the native Inter RF Subsystem Interface (ISSI) protocol and DMR via the native Inter Application Interface Specification (AIS) protocol.
For more information, please visit http://www.eschat.com
Press Contact:
For ESChat
Holly Luban
media(at)eschat(dot)com