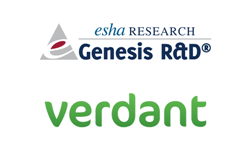 "Our partnership with Verdant will help our customers jumpstart their integration process, while ultimately saving time, money, and resources," Craig Bennett, CEO of ESHA.
SALEM, Ore. and SEATTLE, Wash. (PRWEB) August 27, 2020
Today, ESHA Research and Verdant announced a strategic partnership to help customers streamline the integration process between ESHA's Genesis R&D Product Formulation & Labeling Compliance software with other key product data management and eCommerce systems.
Leveraging the Genesis R&D API and Verdant's COG Integration Platform, Verdant has developed prebuilt integration templates to connect nutrition analysis and Nutrition Facts label data in Genesis R&D with common ERP, PLM, and MDM vendor solutions. This enables seamless, automated movement of information across these critical platforms throughout the product lifecycle.
"More than ever, organizations need to make sure their systems and processes are aligned, and that critical data is coming from a single source of truth," Craig Bennett, CEO of ESHA, said. "Our partnership with Verdant will help our customers jumpstart their integration process, while ultimately saving time, money, and resources."
"Integrating these systems offers tremendous value by digitally binding key data and processes, but traditionally there has been hesitance to invest since these initiatives are often costly and complex, making the ROI unpredictable," said Jason Grimm, CEO of Verdant. "COG is a packaged integration offering that ensures predictable results and immediate value."
ESHA Research and Verdant will be co-hosting a free webinar, Drive to Digital: Integrating Genesis R&D to Improve Your Innovation Workflow, to demonstrate how this solution will work in practice. Interested parties can reserve a spot by registering here.
About Genesis R&D
Genesis R&D Product Development and Labeling Software assists users in all aspects of food-product development, from recipe development and virtual food creation to nutrition facts panels creation and compliance. Genesis R&D offers a variety of features for compliance with government food labeling regulations in the U.S., EU, Canada, and Mexico.
About ESHA Research
ESHA Research, founded in 1981, offers a variety of nutritional analysis and label development solutions to ensure regulatory compliance. Our software programs and databases are used all over the world, by food manufacturers, educational facilities, restaurants, healthcare facilities, and other industry institutions for nutrient analysis, labeling, product development, and more. In addition, ESHA Research offers software and regulatory compliance consulting and label-generation services. Visit http://www.esha.com fore more information.
About Verdant COG Integration Platform
Verdant's COG Integration Platform was designed and built to overcome typical obstacles that prevent CPG companies from integrating their most critical systems and processes. With prebuilt connectors for typical industry tools (such as Genesis R&D), Verdant's COG offerings enable rapid deployment using pre-built orchestrations and connectors combined with comprehensive support.
About Verdant
Verdant is focused on improving innovation, quality, and commercialization capabilities by transforming the way companies leverage technology and data. Verdant has become a trusted partner to many of the world's leading CPG brands by offering industry-specific advisory and professional services paired with innovative technology and product offerings. Visit http://www.verdantservices.com for more information about services and offerings.