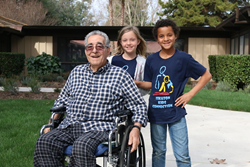 This is not just an opportunity for kids to entertain the elderly; it's an opportunity for true engagement and the development of real relationships.
Sacramento, CA (PRWEB) October 21, 2016
In an effort to bridge generation gaps, Eskaton Kids Connection recently kicked off its 8th annual school year. "The program began in 2009 with one assisted living community in Carmichael," said Betsy Donovan, Chief Operating Officer of Eskaton, who started the program with her sister Bobbi Donovan, a veteran school teacher at Kohler Elementary School in the Sacramento area's Twin Rivers Unified School District. "Growing from one classroom to thirty-one in eight years is quite an accomplishment; it takes passionate people to make that happen. Getting the attention of a school district and educating them on the value takes time."
The persistence of Adam Hill, program manager, paid off in 2016. "We signed up eight new classrooms this year. Teachers and school districts are now recognizing the value of intergenerational relationships," said Hill. "Eskaton is seeing healthier outcomes for residents and advanced learning skills for students."
Eskaton brings more than 650 elementary school children together with 1,000 older adults known as "buddies." The buddies meet regularly during the school year to read, write, do arts and crafts, play songs and share stories with one another. Schools include Kohler, Allison, Scotten, Blue Oak, Gold Oak, Pleasanton, Sierra View, Regency Park, Castori, Frontier, Ridge Point, Sunrise, Murdock, East Lake, Mt. Shasta, Hayfork, Indian Creek, McKinley and Prospect Sierra elementary schools, as well as Charis High School and Creative Connections Art Academy.
Schools pay nothing for the program. Eskaton donates the material, transportation, and lunch for each visit. Thanks to Eskaton Foundation and its donors, the program spread to its affordable housing communities. Eskaton Kids Connection earned the "Inspire Award" from the Twin Rivers Unified School District, was recognized for excellence by The Eisner Foundation and received an Innovations in Quality award from the California Assisted Living Association.
"This is not just an opportunity for kids to entertain the elderly; it's an opportunity for true engagement and the development of real relationships," said Betsy Donovan.
Kids Connection can be replicated at any senior living community. Because of the success of the program, more communities are wanted by teachers in the Elk Grove School District. For more information on Kids Connection, visit http://www.eskaton.org/kids.
About Eskaton
The vision of Eskaton is to transform the aging experience. Its dedicated team members provide services and support for nearly 12,000 individuals annually who live in Eskaton communities or participate in its comprehensive home-support services. Eskaton services include independent living, assisted living, memory care, short-term stays, rehabilitation and skilled nursing, adult day, home health, in-home care, and affordable housing. Eskaton is pet-friendly. For more information, please call (866) ESKATON, or visit http://www.eskaton.org.
About the NALA™
The NALA offers small and medium-sized businesses effective ways to reach customers through new media. As a single-agency source, the NALA helps businesses flourish in their local community. The NALA's mission is to promote a business' relevant and newsworthy events and achievements, both online and through traditional media. For media inquiries, please call 805.650.6121, ext. 361.