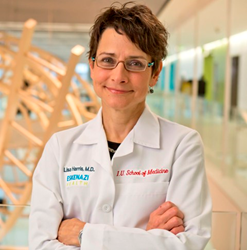 "Real health care reform is achieved when Lifestyle Medicine becomes the foundation---as it is synonymous with value-based care."
INDIANAPOLIS (PRWEB) October 04, 2018
The American College of Lifestyle Medicine will host its Lifestyle Medicine 2018 conference at the JW Marriott in Indianapolis October 21-24, with Eskenazi Health CEO Lisa Harris, MD showcased as one of keynote presenters, sharing about the positive impact Lifestyle Medicine has had on her health system and her own medical practice.
Harris emphasizes that this is an ideal opportunity for her fellow physicians and medical professionals in Indianapolis and throughout the region to attend the CME-accredited conference and learn from the leading experts in the field of Lifestyle Medicine. More than 1,000 physicians and other health professionals are registered to attend the conference, ACLM's largest ever.
"I'm honored to be presenting, joined by colleagues including Dean Ornish, Caldwell Esselstyn, Michael Greger and Colin Campbell for whom I have high regard," Harris said.
Kicking off with pre-conference workshops on Saturday, October 20, the conference, themed "Real Health Care Reform," runs through mid-day Wednesday, October 24. The American Board of Lifestyle Medicine will be hosting its second annual board exam on October 25, with conference attendance fulfilling the live CME exam prerequisite.
Harris has helped incorporate lifestyle-related programs for staff, patients and the community at Eskenazi Health since she became CEO in 2004. Eskenazi Health has created initiatives for patients and staff from wellness gardens, including The Sky Farm at Eskenazi Health, to a farmer's market, as well as the free "Healthy Me" lifestyle management program offered for all Eskenazi Health patients and employees.
"For decades, wellness and prevention have been at the core of Eskenazi Health's model of care," said Harris. "Research shows that our best opportunity to improve the lives of our patients and, by extension, the health and vitality of our community lies in helping individuals stay well."
"It's visionary leaders, such as Dr. Harris, who are on the leading edge of real health care reform, which is the theme of this year's conference," said ACLM Executive Director Susan Benigas. "Hospitals across the country should take notice of Eskenazi Health's focus on Lifestyle Medicine, recognizing, as Dr. Harris has, that real health care reform is achieved when Lifestyle Medicine becomes the foundation---as it is synonymous with value-based care."
These efforts have resulted in Eskenazi Health earning the Wellness Council of Indiana 5 Star AchieveWELL award in 2017 for being one of the healthiest workplaces in Indiana. In February 2016, Eskenazi Health was named one of the top 12 hospitals in the country with the healthiest food options to prevent and possibly reverse chronic disease by the Physicians Committee for Responsible Medicine.
Lifestyle Medicine has been recognized by the Association of the American Colleges of Medicine as one of the five emerging medical specialties. ACLM, the medical professional association for those physicians who practice Lifestyle Medicine, provides training and certification for physicians and other health professionals. One of its newest working groups is the Lifestyle Medicine in Health Systems Working Group, reflecting the movement across the country of more and more health systems establishing Lifestyle Medicine clinics and programs.
ABOUT THE AMERICAN COLLEGE OF LIFESTYLE MEDICINE: ACLM is the medical professional society for those dedicated to the advancement and clinical practice of Lifestyle Medicine as the foundation of a transformed and sustainable health care system. Lifestyle Medicine treats, often reverses and prevents chronic disease. It is the combined use of evidence-based lifestyle therapeutic approaches, such as a predominantly whole food, plant-based diet, regular physical activity, adequate sleep, stress management, avoidance of risky substance use and other non-drug modalities.
More than a professional association, ACLM is a galvanized force for change. ACLM addresses the need for quality education and certification, supporting its members in their individual practices and in their collective mission to domestically and globally promote Lifestyle Medicine as the first treatment option, as opposed to a first option of treating symptoms and consequences with expensive, ever increasing quantities of pills and procedures. ACLM members are united in their desire to identify and eradicate the root cause of disease. Learn more at http://www.LifestyleMedicine.org. For information and to register for Lifestyle Medicine 2018, visit http://www.LMConference.org.