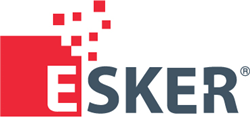 "Fuji Xerox continues to open new doors and opportunities for us, facilitating our expansion in the APAC region and expanding our solution offering to a new customer base. Together we will help businesses efficiently manage their receivables and speed up their cash collection cycle."
MIDDLETON, Wis. (PRWEB) March 17, 2020
Esker, a worldwide leader in AI-driven process automation solutions and pioneer in cloud computing, today announced that Fuji Xerox Co., Ltd., a leading provider in offering smarter ways to work with document-related solutions and services, will market Esker's cloud-based Accounts Receivable automation solution in the Asia-Pacific (APAC) region. This reseller agreement expands the partnership between the two companies, who are already collaborating on an accounts payable (AP) automation solution in the same region.
Esker's Accounts Receivable solution removes the obstacles preventing today's businesses from optimizing their invoice-to-cash process. By offering automated invoice delivery via any media (e.g., paper, e-invoices, EDI, etc.) and in full compliance with numerous national regulations, Fuji Xerox customers benefit from increased process efficiency, reduced invoice delivery costs, real-time visibility into invoice delivery status and increased customer satisfaction.
As a certified Pan European Public Procurement Online (PEPPOL) Access Point, Esker processes, sends and receives invoices to any recipient within the PEPPOL network. This accreditation is key to Fuji Xerox customers in Singapore, where the government has adopted PEPPOL for B2G document exchanges.
"Building on the success of our initial partnership with Esker in the AP space, we are now able to expand our cloud-based solution offering to include invoice delivery," said Amane Inoue, corporate vice president and executive general manager, Advanced Industrial Services Business Group, Fuji Xerox Co., Ltd. "Esker's e-invoicing and regulatory expertise, particularly in regards to PEPPOL, gives us a competitive advantage in the fast developing world of mandating structured e-invoice exchange."
"Fuji Xerox continues to open new doors and opportunities for us, facilitating our expansion in the APAC region and expanding our solution offering to a new customer base," said Jean-Michel Bérard, CEO at Esker. "Together we will help businesses efficiently manage their receivables and speed up their cash collection cycle."
As part of the agreement, the solution will be marketed by Fuji Xerox along with consultation, implementation and support provided by Fuji Xerox.
About Fuji Xerox
Founded in 1962, Fuji Xerox Co., Ltd. is a leading company in offering smarter ways to work with its document-related solutions and services, as well as with the world-class office multifunction devices, printers and production printers that we develop and manufacture for worldwide distribution.
Fuji Xerox is a wholly owned subsidiary of FUJIFILM Holdings Corporation with direct sales force covering Japan and the Asia-Pacific region including China. As a U.S. 10 billion dollar enterprise, we employ approximately 40,000 people globally, with more than 80 domestic and overseas affiliates / sales subsidiaries.
On April 1, 2021, Fuji Xerox will change its corporate name to FUJIFILM Business Innovation Corp. http://www.fujixerox.com.
About Esker
Esker is a worldwide leader in AI-driven process automation software, helping financial and customer service departments digitally transform their procure-to-pay (P2P) and order-to-cash (O2C) cycles. Used by more than 6,000 companies worldwide, Esker's solutions incorporate technologies like artificial intelligence (AI) to drive increased productivity, enhanced visibility, reduced fraud risk, and improved collaboration with customers, suppliers and internally. Esker operates in North America, Latin America, Europe and Asia Pacific with global headquarters in Lyon, France, and U.S. headquarters in Madison, Wisconsin. For more information on Esker and its solutions, visit http://www.esker.com. Follow Esker on Twitter @EskerInc and join the conversation on the Esker blog at blog.esker.com.