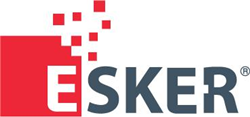 We are very proud to be recognized as a leading P2P solution provider and to have been nominated by our customer Luxasia.
MIDDLETON, Wis. (PRWEB) January 24, 2019
Esker, a worldwide leader in document process automation solutions and pioneer in cloud computing, today announced it has been awarded an Editors' Choice Award for Excellence in Purchase-to-Pay Transformation by CFO Innovation. Esker was nominated by its customer Luxasia, who, thanks to Esker's Purchase-to-Pay (P2P) solution, has successfully increased P2P efficiency at its shared services center in Malaysia.
The CFO Innovation Awards, inaugurated in 2012, recognizes Asia's leaders in all aspects of financial management. Nominated and voted on by the readers of CFO Innovation, the awards provide an opportunity to celebrate excellence with hundreds of leading CFOs and their partner suppliers. Its Editors' Choice Awards distinguish well-executed projects carried out by a finance department in collaboration with service providers.
Esker's cloud-based, AI-powered platform spans the entire P2P process, equipping finance departments with the speed, strategy, and support they need to improve purchasing and vendor decisions.
"We are very proud to be recognized as a leading P2P solution provider and to have been nominated by our customer Luxasia," said Jean-Michel Bérard, Chief Operating Officer at Esker. "The CFO Innovation Awards are increasingly competitive, so being awarded an Editors' Choice Award validates our success as a pioneer in digital transformation. With our P2P automation solution we strive to bring organizations around the world greater efficiency, accuracy, visibility and cost savings."
Following Esker's P2P solution implementation, Luxasia has achieved numerous benefits, including:

100-percent visibility with customizable dashboards and real-time metrics
80-percent reduction in paper use
Cost savings and increased productivity
Improved customer and vendor communication
On-the-go invoice and purchase requisition review and approval capabilities
About CFO Innovation
CFO Innovation is the only online publication exclusively for top-level finance managers in the corporate sector in Asia and China. They provide Asia's senior finance managers with news, analysis, best practices, insights, case studies and innovative strategies to enable them to keep their companies' financial management and teams competitive in a changing world. CFO Innovation also organizes conferences in Hong Kong, Singapore, Bangkok, Jakarta, Kuala Lumpur and Manila, and honors outstanding finance professionals and service providers in the annual CFO Innovation Awards.
About Esker
Esker is a worldwide leader in cloud-based document process automation software, helping financial and customer service departments digitally transform their order-to-cash (O2C) and purchase-to-pay (P2P) cycles. Used by more than 6,000 companies worldwide, Esker's solutions incorporate technologies like artificial intelligence (AI) to drive increased productivity, enhanced visibility, reduced fraud risk, and improved collaboration with customers, suppliers and internally. Esker operates in North America, Latin America, Europe and Asia Pacific with global headquarters in Lyon, France, and U.S. headquarters in Madison, Wisconsin. For more information on Esker and its solutions, visit http://www.esker.com. Follow Esker on Twitter @EskerInc and join the conversation on the Esker blog at blog.esker.com.