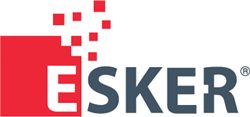 "To be recognized as an FL100+ Top Software and Technology Provider for the fourth year in a row is both an honor and a confirmation to Esker that we are directly able to meet the needs of today's global industries."
MIDDLETON, Wis. (PRWEB) December 17, 2019
Esker, a worldwide leader in AI-driven process automation solutions and pioneer in cloud computing, has been named a 2019 FL100+ Top Software and Technology Provider by Food Logistics for the fourth straight year.
Food Logistics is a publication dedicated to covering the movement of product through the global food supply chain. The annual FL100+ Top Software and Technology Providers serves as a resource guide of software and technology providers whose products and services are critical for companies in the global food and beverage supply chain.
"Whether you're using sensors to monitor critical temperatures for perishables or a WMS to manage inventory flows in your warehouse, software and technology are playing a vital role in the food and beverage industry," remarks John R. Yuva, editor for Food Logistics and its sister publication, Supply & Demand Chain Executive. "The transparency and safety of the digital global food supply chain would not exist without innovations in software and technology. Our FL100+ recipients help drive supply chain compliance and regulatory changes that benefit everyone from the farmer to the food processor to the consumer."
As the global food supply continues to grow, efficient data processing and back-office operations remain a critical need for suppliers of all shapes and sizes. With Esker's help, companies can cut down on wasted time and improve their ability to manage and deliver orders while food remains at the peak of its freshness. Esker's Order Management automation solution makes it possible for suppliers to quickly and easily process orders, rather than being forced to rely on outdated data entry techniques to do the job.
"To be recognized as an FL100+ Top Software and Technology Provider for the fourth year in a row is both an honor and a confirmation to Esker that we are directly able to meet the needs of today's global industries," said Steve Smith, U.S. chief operating officer at Esker. "As the needs of food suppliers continue to evolve, we strive to always assist suppliers with the latest in order management automation solutions."
Companies on the 2019 FL100+ Top Software and Technology Providers list will be profiled in the November/December 2019 issue of Food Logistics, as well as online at http://www.foodlogistics.com.
About Food Logistics
Food Logistics is published by AC Business Media, a business-to-business media company that provides targeted content and comprehensive, integrated advertising and promotion opportunities for some of the world's most recognized B2B brands. Its diverse portfolio serves the construction, logistics, supply chain and other industries with print, digital and custom products, events and social media.
About Esker
Esker is a worldwide leader in AI-driven process automation software, helping financial and customer service departments digitally transform their purchase-to-pay (P2P) and order-to-cash (O2C) cycles. Used by more than 6,000 companies worldwide, Esker's solutions incorporate technologies like artificial intelligence (AI) to drive increased productivity, enhanced visibility, reduced fraud risk, and improved collaboration with customers, suppliers and internally. Esker operates in North America, Latin America, Europe and Asia Pacific with global headquarters in Lyon, France, and U.S. headquarters in Madison, Wisconsin. For more information on Esker and its solutions, visit http://www.esker.com. Follow Esker on Twitter @EskerInc and join the conversation on the Esker blog at blog.esker.com.