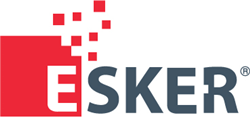 We are proud to once again be recognized as an exemplary cloud-based provider.
MIDDLETON, Wis. (PRWEB) January 22, 2019
Esker, a worldwide leader in document process automation solutions and pioneer in cloud computing, today announced it has been declared a 2018-2019 finalist in The Cloud Awards Program in three categories: B2B Customer Strategy, "Best in Mobile" Cloud Solution, and Best Cloud Payment, Finance or Billing Solution.
The Cloud Awards program celebrates success and innovation from the best and brightest in the cloud computing industry. The awarding body accepts applications from organizations of any size worldwide, from start-ups to established multinationals.
"The Cloud Awards is increasingly competitive, so being shortlisted for not one, but three categories highlights our team's dedication to providing innovative solutions and service for our customers," said Steve Smith, U.S. chief operating officer at Esker. "We are proud to once again be recognized as an exemplary cloud-based provider."
Esker started as a software vendor in 1985 with a vision to help businesses deliver their paper documents electronically. Today, Esker is a worldwide leader in AI-driven process automation software, providing cloud-based solutions for streamlining business processes within the order-to-cash (O2C) and purchase-to-pay (P2P) cycles. Esker's solutions were finalists in the following categories:

B2B Customer Strategy: Esker's team of customer experience ambassadors has pioneered a customer service experience strategy that encourages proactive customer engagement. The team provides training, dives deep into how Esker's solutions affect customer's business practices, and previews any solution upgrades with customers prior to implementation. Most importantly, Esker's customer experience ambassadors conduct on-site visits to help customers get the most from their Esker solution.
Approval and Mobile Ordering application, Esker Anywhere™, delivers faster invoice and order processing, improved efficiency, and on-the-road accessibility for employees.
Best Cloud Payment, Finance or Billing Solution: Esker's Accounts Receivable automation solution automates the entire process of delivering and archiving invoices, regardless of media type, in compliance with global regulations.
The Cloud Awards organizer Larry Johnson said: "In such a competitive global marketplace, the need to not only use these technologies but to continue to innovate has grown ever-stronger. This year, the judges have had a more difficult time than ever in deciding which entrants should move forward to the next stage."
Hundreds of organizations entered, with entries coming from across the globe, covering the Americas, Australia, Europe and the Middle East. You can view the full shortlist [here. Final winners will be announced on Tuesday, January 29, 2019.
The Cloud Awards will return with a new program in late 2019 to continue its recognition of excellence in cloud computing.
About The Cloud Awards
The Cloud Awards is an international program which has been recognizing and honoring industry leaders, innovators and organizational transformation in cloud computing. The awards are open to large, small, established and start-up organizations from across the entire globe, with an aim to find and celebrate the pioneers who will shape the future of the cloud as we move into 2019 and beyond. Categories include Most Promising Start-Up, Best SaaS, and "Best in Mobile" Cloud Solution. Finalists were selected by a judging panel of international industry experts. For more information about the Cloud Awards please visit http://www.cloud-awards.com/.
About Esker
Esker is a worldwide leader in cloud-based document process automation software, helping financial and customer service departments digitally transform their order-to-cash (O2C) and purchase-to-pay (P2P) cycles. Used by more than 6,000 companies worldwide, Esker's solutions incorporate technologies like artificial intelligence (AI) to drive increased productivity, enhanced visibility, reduced fraud risk, and improved collaboration with customers, suppliers and internally. Esker operates in North America, Latin America, Europe and Asia Pacific with global headquarters in Lyon, France, and U.S. headquarters in Madison, Wisconsin. For more information on Esker and its solutions, visit http://www.esker.com. Follow Esker on Twitter @EskerInc and join the conversation on the Esker blog at blog.esker.com.