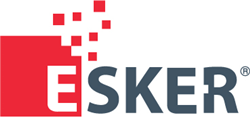 The implementation of Esker's Order Management system has not only had dramatic productivity benefits in our process, but we have achieved those results without sacrificing the service level to the customer.
MIDDLETON, Wis. (PRWEB) June 28, 2019
Esker, a worldwide leader in AI-driven process automation solutions and pioneer in cloud computing, today announced it has been named a recipient for the 2018-19 Supply & Demand Chain Executive 100 Top Supply Chain Transformations (SDCE 100) award. Esker was selected for the impact its solution brought to TAMKO Building Products LLC following implementation.
The SDCE 100 recognizes individual and corporate leaders in the global supply chain. This list highlights successful and innovative transformation projects that deliver bottom-line value to small, medium and large enterprises across the range of supply chain functions. The projects featured in this awards program serve as an industry roadmap for supply chain executives looking for new opportunities to drive operational success.
"Every year our list of submissions for the SDCE 100 continues to grow as more companies rely on the expertise of supply management for innovative decision-making," says John R. Yuva, editor for Supply & Demand Chain Executive. "Our winners raise the bar for what is achievable in the supply chain."
TAMKO chose Esker's cloud-based, AI-powered Order Management solution for its ability to help reduce costs, improve reporting capabilities and consolidate orders into a single system. Ultimately, the company wanted to ensure that orders were being entered and fulfilled efficiently and accurately.
"The implementation of Esker's Order Management system has not only had dramatic productivity benefits in our process, but we have achieved those results without sacrificing the service level to the customer," said Robert Keeling, Assistant Vice President Supply Chain Operations at TAMKO. "It's been a key part of our back-office automation efforts and has helped provide more time for our employees to engage in higher value activities."
Following Esker's Order Management solution implementation, TAMKO achieved an overall reduction in time and cost of manual entries, as well as other benefits such as:

Enhanced reporting for continuous process improvement
84-percent reduction in average order processing time
60-percent reduction in time spent on new hire onboarding
"We enjoyed working with TAMKO and we're glad our solution was able to yield such strong results for the company," said Steve Smith, COO at Esker. "We constantly strive to bring organizations greater accuracy, efficiency, visibility and cost savings, so it's an honor to be recognized as part of the SDCE 100."
About Esker
Esker is a worldwide leader in cloud-based document process automation software, helping financial and customer service departments digitally transform their purchase-to-pay (P2P) and order-to-cash (O2C) cycles. Used by more than 6,000 companies worldwide, Esker's solutions incorporate technologies like artificial intelligence (AI) to drive increased productivity, enhanced visibility, reduced fraud risk, and improved collaboration with customers, suppliers and internally. Esker operates in North America, Latin America, Europe and Asia Pacific with global headquarters in Lyon, France, and U.S. headquarters in Madison, Wisconsin. For more information on Esker and its solutions, visit http://www.esker.com. Follow Esker on Twitter @EskerInc and join the conversation on the Esker blog at blog.esker.com.
About TAMKO®
TAMKO Building Products LLC is one of the nation's largest independent manufacturers of residential and commercial roofing products (including Heritage® asphalt shingles and MetalWorks® steel shingles), waterproofing products and cements and coatings. Since 1944, TAMKO's success is the direct result of teamwork and enduring relationships with customers, suppliers and employees. Third generation privately owned, TAMKO is committed to producing top-quality products with excellent product support. For more information about TAMKO, visit its website at http://www.TAMKO.com.
About the Supply & Demand Chain Executive
Supply & Demand Chain Executive is the executive's user manual for successful supply and demand chain transformation, utilizing hard-hitting analysis, viewpoints and unbiased case studies to steer executives and supply management professionals through the complicated, yet critical, world of supply and demand chain enablement to gain competitive advantage. Visit its website at http://www.SDCExec.com.