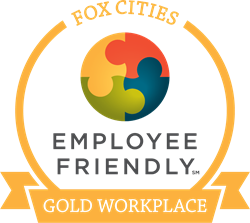 APPLETON, Wis. (PRWEB) October 28, 2021
ESOP Partners has been certified as a 2021 gold-level Employee Friendly Workplace in the Fox Cities by the Fox Cities Chamber of Commerce. Gold-certified employers are community leaders in promoting work/life integration by making significant investments in employee-friendly policies and practices.
ESOP Partners recently celebrated its 15-year anniversary. President and Founder, Aaron Juckett reflects on the special occasion, "I am very thankful for our clients, current and former employees, and strategic partners who have entrusted me and my team to provide them service throughout the last 15 years." The company is committed to being a key player in the Fox Valley business community as they continue to grow in the years to come.
Employee friendly workplace policies and practices foster a supportive work environment that improves employee engagement and encourages employee loyalty. A commitment to employee friendliness creates an environment in the Fox Cities that attracts and retains the best employees for the region. To learn more about the Fox Cities Employee Friendly Workplace certification and initiative, please visit http://foxcitieschamber.com/employee-friendly-workplace.
ESOP Partners is an ESOP (Employee Stock Ownership Plan) service provider that changes lives by creating wealth and sustainable employment through employee ownership. The organization works with business owners and companies to determine if an ESOP is a good fit for their situation and maximize the potential of their ESOP. ESOP Partners walks the talk, as they are also employee-owned. They understand firsthand how ESOP practices align with overall business objectives. They are one of only 179 companies in the state of Wisconsin that are an ESOP.