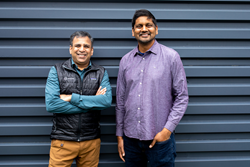 "Esper's mature cloud infrastructure incorporates the functionality cloud developers have come to expect, re-imagined for devices" said Yadhu Gopalan, CEO of Esper
SEATTLE (PRWEB) May 20, 2021
Esper, the industry's leading DevOps platform for devices, today announced $30 million in Series B funding led by Scale Venture Partners, with participation from existing investors including Madrona Venture Group, Root Ventures, Ubiquity Ventures, and Haystack. The investment brings Esper's total funding to $40.6 million, following a $7.6 million Series A fundraise in February 2020.
With the number of Internet of Things (IoT) connected devices projected to increase from 14 billion units in 2021 to 31 billion units in 2025, companies are learning how best to scale their core business applications. But with thousands of device manufacturers on Android alone, achieving scale comes with huge challenges. Esper's platform helps companies bypass building an internal DevOps team by enabling developers and engineers to securely streamline deployment and management for distributed fleets of Android edge devices, creating positive user experiences that can rapidly scale.
"The pandemic has transformed industries like connected fitness, digital health, hospitality, and food delivery, further accelerating the adoption of intelligent edge devices. But with each new use case, better software automation is required," said Yadhu Gopalan, CEO and co-founder at Esper. "Esper's mature cloud infrastructure incorporates the functionality cloud developers have come to expect, re-imagined for devices."
In 2020, the company saw significant customer growth, with major brands across a number of industries, including Ordermark, Spire Health, Inspire Fitness, and Intelity turning to Esper to bring them to market faster as the demand for seamless digital experiences spiked. At year-end, the number of devices running on Esper grew 15x, with 70x year-over-year revenue growth. With the new funding, Esper plans to continue to build out its product portfolio and expand its infrastructure platform to support even larger workloads. Additionally, Esper plans to expand its team and hire for engineering in cloud, Android, and full-stack; product and program management, user experience, marketing, and sales.
"Esper helped us launch our Fusion connected fitness offering on three different types of hardware in less than six months," said Chris Merli, founder at Inspire Fitness. "Their full stack connected fitness Android platform helped us test our application on different hardware platforms, configure all our devices over the cloud, and manage our fleet exactly to our specifications. They gave us speed, Android expertise, and trust that our application would provide a delightful experience for our customers."
A pioneer of the DevOps revolution, Gopalan designed back-end solutions for Amazon's FireOS, AWS cloud services, and led systems engineering for Amazon Go. Over time, he saw an opportunity to bring the "DevOps mindset" to the world of intelligent edge devices. Seeing firsthand how much of a critical role modern infrastructure played in the success of cloud services, he applied similar tools and concepts to power the connected future for Android devices, founding Esper in 2018 with Shiv Sundar. Sundar, COO of Esper, previously led Android ecosystem teams at Samsung, Huawei and Cyanogen.
"Just as AWS rapidly accelerated the time to bring a web application to market, Esper gives developers and engineers the platform to bring their dedicated devices and associated apps to market exponentially faster," said Yadhu Gopalan, CEO and co-founder of Esper. "Regardless of your hardware choices or roadmap, Esper presents the infrastructure as a single pane of glass. We innovate for you on the infrastructure level, so you can innovate at the application level."
"The world of edge devices is growing daily from the ubiquitous tablets in retail, restaurants and warehouses, to fitness equipment and kiosks. All these devices need provisioning, scaled deployments, and frequent and remote updates," said Andy Vitus, partner at Scale Venture Partners. "Esper is the DevOps infrastructure for the millions of fleets of devices out there in the hands of non-IT staff users – consumers, restaurant workers, shoppers, and more. We led their Series B because we see similarities to other DevOps companies and Esper has already established themselves as the leader in the exploding need for Device DevOps."
About Esper
Esper offers a DevOps SaaS platform for intelligent edge devices. As the industry's leading solution for Android DevOps, Esper is on a mission to let software teams ship without worrying about the hardware. Esper's device infrastructure enables developers, mid-market organizations, and enterprise fleets of 100,000+ devices to deliver their software as a service. Esper has rapidly-growing global customer adoption among some of the world's most innovative major brands in retail, hospitality, logistics, healthcare, education and more. For more information visit: https://esper.io.
About Scale Venture Partners
Scale is a Silicon Valley-based venture capital investment firm with $1.3B under management. We were early investors in SaaS pioneers like Bill.com (NYSE:BILL), DocuSign (NASDAQ:DOCU), HubSpot (NYSE:HUBS), JFrog (NASDAQ: FROG) and Root (NASDAQ: ROOT). Today we're focused on the next generation of enterprise software companies building Cognitive Applications like: Comet.ml, Observe.ai, Techsee and Viz.ai. Learn more at http://www.scalevp.com.