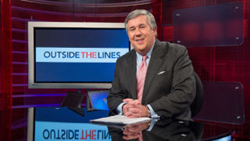 SOUTH ORANGE, N.J. (PRWEB) February 07, 2019
Seton Hall alumnus Bob Ley '76 will present the commencement address at the 162nd Baccalareate Commencement Exercises on Monday, May 20 at 9 a.m. at the Prudential Center in Newark. N.J.
Recently selected for induction to the National Sports Media Association Hall of Fame, Ley is best known for his work at ESPN. Ley is the longest tenured broadcaster at the sports media giant headquartered in Bristol, Connecticut. He became an anchor of "SportsCenter" on the network's third day of operation in 1979.
Just a few years out of college, Ley turned down a job offer from New Jersey Public Television as assistant sports director to work with ESPN, the nation's first 24 hour sports network.
The rest, as they say, is history.
Today, ESPN is known as "The Worldwide Leader in Sports," and reaches more than 100 million U.S. households and is delivered in many languages to countless countries around the world.
For the last 28 years, Ley has been the host of ESPN's "Outside the Lines," which, as noted by the National Sports Media Association Hall of Fame, "examines issues of the day in the sports world that go beyond the playing field and the arena."
In addition to multiple Emmy Awards throughout the years, the show received a Peabody Award for its coverage of the NFL's concussion crisis in "NFL at a Crossroads: Investigating a Health Crisis." http://www.peabodyawards.com/award-profile/outside-the-lines-nfl-at-a-crossroads-investigating-a-health-crisis-espn
Ley, who graduated magna cum laude from Seton Hall University in 1976, got his start in broadcasting as a sportscaster and program director at WSOU, Seton Hall's student-run radio station. Ley was inducted into the WSOU Hall of Fame in 1995.
Currently on a six month sabbatical from ESPN, Ley was recently invited back to Seton Hall by the College of Communication and the Arts to teach a master class to 30 select students entitled "Sports Journalism and Its Challenges."
Considering the class, Ley then noted: "Returning home to Seton Hall to teach this class is very meaningful for me. What I learned here as a student gave me the tools and the grounding to not only work in the industry, but help to create programming that's essentially become a part of the wider culture."
Ley, who has served on Seton Hall's Board of Regents, grew up in Bloomfield, New Jersey and is married with two daughters and has two grandchildren.