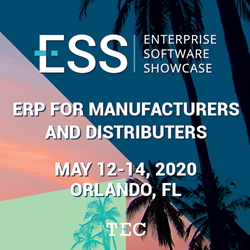 "Our mandate is to help companies evaluate ERP systems so they can discover which system will best support their unique business needs." —Michael Thaw, TEC's VP of Selection Services
MONTREAL (PRWEB) March 05, 2020
For businesses evaluating ERP systems, the Enterprise Software Showcase (ESS) might seem like the most magical event on earth. Unlike large trade shows, or events that focus on a single vendor, the ESS is intimately scaled and organized to provide a neutral environment for businesses to have one-on-one time with several leading enterprise resource planning (ERP) software vendors and see their systems live in action.
Building on the success of previous ESS events, event founder and moderator Technology Evaluation Centers (TEC) partnered up with Godlan, an Infor Gold Channel partner, to launch the next event in Orlando, Florida, on May 12th to 14th, 2020.
"Our mandate is to help companies evaluate ERP systems so they can discover which system will best support their unique business needs. Selecting the best-fit ERP system is crucial in the process as it leads to an increased chance of implementation success and higher user adoption rates," explains TEC's Vice President of Selection Services, Michael Thaw.
"We're thrilled to have Godlan join us in this new adventure. We've moderated many similar events in the U.S. and rest of the world, so we know Godlan's deep industry expertise in manufacturing will be an added value to attendees," remarks Thaw.
Godlan, representing Infor, as well as partners representing Microsoft, Sage, Epicor, and IFS, will showcase their products and dedicate time to answer attendees' specific questions.
"We're excited about joining TEC for this one-of-a-kind event. This is a great platform for companies interested in an ERP to air their questions and concerns and understand how leaders in the ERP community can help them achieve their goals for 2020 and beyond," says Bobby Rudder, VP of Marketing & Communications at Godlan.
The ESS is a 3-day event designed for companies in the process of evaluating ERP software. The goal is to present several leading ERP options, so that attendees can get an in-depth understanding of what's available on the market and make better, more informed ERP software selection decisions.
ESS for ERP 2020—Conference Highlights

Live demo sessions of top ERP systems
One-on-one time with ERP vendor reps and TEC advisors
Implementation success workshop
Industry-specific sessions
Networking breaks and cocktail receptions
Registration is now open for the ESS for ERP 2020, taking place on May 12th to 14th, 2020, in Orlando, Florida. Early bird pricing is available until March 27th, 2020. Register here.
For more information about TEC's Enterprise Software Showcase event, visit https://www.technologyevaluation.com/ess, call +1 514-360-8601, or email events@tec-centers.com.
About Technology Evaluation Centers (TEC)
Technology Evaluation Centers (TEC) is the world's leading provider of software selection resources, services, and research materials, helping organizations evaluate and select the best enterprise software for their needs. With its advanced decision-making process and software selection experts, TEC reduces the time, cost, and risk associated with enterprise software selection.
Over 3.5 million subscribers leverage TEC's extensive research and detailed information on more than 1,000 leading software solutions across all major application areas. TEC is recognized as an industry-leading software selection advisory firm offering resources and services both online and onsite. For more information, visit http://www.technologyevaluation.com.
About Godlan, Inc.
Godlan is a leading manufacturing performance specialist that has been implementing integrated technology solutions since 1984. As an approved Infor Gold Channel Partner with a focus on manufacturing performance, Godlan supports the implementation of world-class processes and best practices throughout discrete manufacturing organizations.
For more information about Godlan or Infor CloudSuite (SyteLine) ERP manufacturing software demos, call +1 586-464-4400, visit http://www.godlan.com or follow us on Twitter @Godlan_Inc.