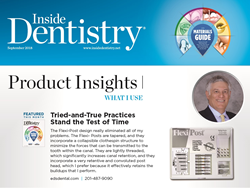 The Flexi-Post System really eliminated all of my problems
SOUTH HACKENSACK, N.J. (PRWEB) August 24, 2018
In the 2018 Materials Guide August issue of Inside Dentistry magazine, Essential Dental Systems had a special feature article highlighting their Flexi-Post System. The "What I Use" article interviewed clinician Dr. James G. Kouzoukian of a private practice in New York. Dr. Kouzoukian, who has been practicing dentistry since 1984, has seen the landscape of the dental industry change but has stayed successful by sticking to principal of providing exceptional service and being accessible to patients.
Since providing the best dental care is important to Dr. Kouzoukian, he made sure that means using the best material out there in the industry. Dr. Kouzoukian was first introduced to the Flexi-Post System years ago during college when he want to an Endodontic lecture given by Dr. Barry Musikant and Dr. Allen Deutsch. They spoke of the patented prefabricated post system with split shank design Flexi-Post. Years into private practice and realizing that requiring patients to come back for two visits to deliver a post and core was impractical, Dr. Kouzoukian switched to the Essential Dental System's (EDS) Flexi-Post.
"The Flexi-Post System has really eliminated all of my problems," Dr. Kouzoukian stated in the feature. "The Flex-Post are tapered, and they incorporate a collapsible clothespin structure to minimize the forces that can be transmitted to the tooth within the canal."
Flexi-Post had helped Dr. Kouzoukian's practice continue to thrive within the industry. To read the entire article head to Inside Dentistry and to learn more about the Flexi-Post System visit http://edsdental.com/flexipost.htm