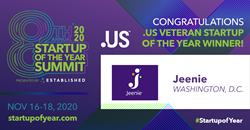 "We are thrilled that .US shares our enthusiasm to support Veteran-led businesses and we are excited to partner with .US to name Jeenie as the first .US Veteran Startup of the Year Award winner!" - Frank Gruber, Established Co-CEO and Managing Partner, Established Ventures
WASHINGTON (PRWEB) November 24, 2020
After a year-long search for diverse early-stage startups, Established (the company behind Startup of the Year Summit) and .US announced that Jeenie was named the .US Veteran Startup of the Year winning $10,000 non-dilutive cash prize from Summit sponsor, .US.
Based in Washington, DC, Jeenie was co-founded by Kirsten Brecht Baker and her father, Richard Brecht. The mobile platform connects you via video and audio calls with a live, HIPAA-trained, medical interpreter from a mobile device or computer for on-demand, in-person patient communication and Telehealth consultations.
"We are very grateful to .US and Established for honoring Jeenie with the .US Veteran Startup of the Year Award. This has been an exciting year for Jeenie, winning the Startup of the Year pitch at South by Southwest and finishing the year with this iconic award from .US," said Kristen. "My co-founder and father served as a Russian linguist in the United States Air Force in Berlin when the 'wall' went up, where he witnessed the impact that language has on international relations and why he dedicated his career to removing language as a barrier to communication. In this spirit, our mission at Jeenie is to make language globally accessible to anyone …anytime… in order to solve life-threatening problems in areas like healthcare or to improve everyday communication such as conversations between Deaf and hearing persons."
In addition to being named the .US Veteran Startup of the Year, Jeenie was also one of the startups in the Top 5 Finals Competition on November 18. During the competition each Finalist gave a five minute pitch with three minutes of Q&A from the All-Star Panel of Judges. Overseeing the proceedings were some of the most respected names in the industry, including: Mary Grove (Bread & Butter Ventures), Karen Kerr (Exposition Ventures), Anna Mason (Rise of the Rest Fund) and Lo Toney (Plexo Capital).
Established Co-CEO and Managing Partner, Established Ventures Frank Gruber stated, "At Startup of the Year, we have a great set of startups with diverse backgrounds, including a subset of Veterans. We are thrilled that .US shares our enthusiasm to support Veteran-led businesses and we are excited to partner with .US to name Jeenie as the first .US Veteran Startup of the Year Award winner!"
"At .US we believe in helping everyone pursue their vision of the American dream. We want to support small businesses achieve their goals and dreams. We are passionate about supporting veteran-led businesses and are so proud to partner with Startup of the Year to create this Award. Congratulations to Jeenie!" added Crystal Peterson, Director, .US Registry Services.
To qualify for the Veteran category a company must fit the following criteria: Veteran or veteran spouse-owned businesses located in the United States. Veterans must have served in the U.S. Armed Forces or The National Guard or be a spouse of a veteran of the U.S. Armed Forces or The National Guard. Active Military/military spouse/partner and qualifying household dependents located in the United States were also eligible.
This year nearly 20% of all Startup of the Year applications had at least one veteran founder. Three of the Top 5 startups had at least one veteran founder.
More information on Startup of the Year and the 2020 competition can be found on http://www.startupofyear.com.
About Startup of the Year®
Powered by Established, the Startup of the Year program is a global competition, world-wide community, and resource to elevate startup founders. Since 2006, the Established team has discovered and supported the most promising and innovative startups from around the world via this annual competition, its Investment Community, Daily Dealflow™ newsletter, Startup of the Year Podcast, Activation Events, and more. For more about the Startup of the Year program, visit https://www.startupofyear.com.
About Established®
Established is a consultancy focused on helping organizations with their innovation, startup and communication strategies. Created by the talent responsible for building the Tech.Co brand (acquired in 2018), Established leverages decades of experience to help collaborators build their brand, engage audiences and accomplish their goals. For more about Established, visit https://established.us.
About .US
.US is the official country code top level domain for the United States of America. Launched in 2002, .US is the domain for anyone with a dream to chase, an idea to share, a cause to champion, or a business to promote. .US domain names can be registered by any individual, business, or organization that is a citizen of, or licensed in, the USA, including federal, state and local governments. In addition, .US may be registered by foreign entities that have a bona fide interest or presence in the United States. To learn more about .US, please visit http://www.about.us.