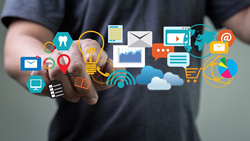 "Without proper planning for digital assets, the things that are important to us may disappear or, worse, become permanently inaccessible." Lee Poskanzer, CEO Protectmyplans.com
BOSTON (PRWEB) April 14, 2020
The global health crisis has moved estate planning from 'someday' to "right now." COVID-19 has also led to an unprecedented number of people moving more and more of their lives into the digital world. That translates to more online accounts, also known as digital assets, being left dangerously unprotected.
What happens to the family photos and videos when the account holder dies? Or how do those left behind, responsible for handling their affairs, know how to locate online investments, bank accounts or even prevent family share accounts from being shut down? What is the plan for paying bills, keeping cell phone services active, managing family email accounts when the account holder dies without a plan to protect online accounts (aka digital assets)? The surviving partner and loved ones will have to untangle up to 200 or more accounts to locate important memories, preserve income streams, prevent utilities from being cut-off and communicate with friends and colleagues. All this, while watching the clock to prevent online subscriptions such as domain names from expiring. Unlike physical assets, digital property, is complex and can easily be lost, hidden and inaccessible due to strict privacy laws and policies.
"We're finding our clients have a false sense of security, thinking they can just document a username and password for a site," states Scott Williams of Williams Allen Casey, an Independence, Ohio law firm. "I'm a very busy trying to put estate plans together for some ER Docs right now which is really challenging since I cannot meet with them in person."
Here are some recommendations for individuals who are now taking a serious look at their estate plans to ensure that their digital assets are protected:
1 – Make a list of every single online account and app that you use. Be sure it contains the username, email or phone number associated with the account along with a designated person to receive the content such as pictures, videos, email, etc...
2 – Visit each site and app to learn about their policies on accounts and privacy in the event of death. Some platforms will simply turn off the account and delete all information if there is no activity within a certain time frame. If there are emails or online files that have some sentimental or financial value, this could present a problem. Others may offer a means to give permission to another person for managing the account and data. This is now offered by Facebook and to a limited extent, Google.
3 – Review the website and apps privacy policies to learn about their security rules. Most prohibit password sharing, aka "Account Impersonation." They've implemented several measures to prevent fraudulent access where failed attempts to log in without the proper credentials or incorrect two-factor authentication responses can lock the estate forever.
4 – Don't neglect online games or sports betting accounts with virtual collectibles (avatar), cryptocurrency or other financial valued property. If these assets are not known to the estate, their value can simply evaporate, never to be recovered and omitted from the settlement.
5 – If there are adult entertainment subscriptions in the portfolio, they need to be addressed to prevent emotional embarrassment. "Non-family friendly" digital assets might reappear after death. Those may be either closed down or a directive giving someone the ability to shut them down needs to be put into place.
"Too often, we hear stories of families who have attempted to use passwords to access accounts without success," says Lee Poskanzer, CEO of Protectmyplans.com. "It can create a false sense of confidence. Site and app owners have created privacy policies and security methods to prevent the accessing and sharing of an account's data. Without proper planning for digital assets, the things that are important to us may disappear or, worse, become permanently inaccessible."
Many digital assets can be managed through an estate preparation online tool, but users need to be cautious when using a digital platform that gathers passwords along with usernames for use after death. Password sharing is illegal under state and federal law, and many of these platforms will lock out families and shut down accounts if there is no directive in place. Even plans through an advisor may be ill-prepared for handling a client's digital property.
ABOUT Protectmyplans.com
PROTECTmyPLANS.com by Directive Communication Systems (DCS) is the market- leading guardian of digital assets for consumers. DCS currently helps to protect more than $2 billion in digital assets, serving professionals and individuals planning their estates, loved ones left behind, fiduciaries and website owners. DCS is the only digital asset and directives service to comply of federal and state laws and website Terms of Service Agreements. Visit us at http://www.protectmyplans.com or Linked In, Twitter @directivecomms, or call 401.301.5337
# # #