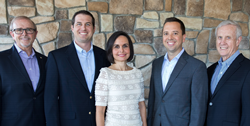 My overall experience at Clearwater Dental has been the best experience that I've had going to any doctor's office.
CLEARWATER, Fla. (PRWEB) February 28, 2020
The esteemed dentists of Clearwater Dental Associates welcome new and existing patients in the Clearwater, FL area to receive transformative full mouth reconstruction treatment plans. Whether missing teeth, infected teeth or misaligned and crowded teeth, this team of compassionate and experienced dentists can offer a completely custom treatment plan for a healthy, new smile.
Full mouth reconstruction solutions are unique to the needs of each individual. They may include repairing teeth that are decayed, chipped, cracked or damaged with porcelain veneers or dental crowns. They can also involve replacing receded or resorbed bone with bone grafts, realigning misaligned bites through occlusal adjustments or orthodontics and even permanently replacing missing teeth with dental implants. The goal of any full mouth reconstruction is to bring function and aesthetics back to the patient either in one appointment or a phased series of visits.
Due to the personalized nature of full mouth reconstruction treatments, the team at Clearwater Dental Associates has arranged their office to include a litany of in-house services and treatment solutions. Not only can the team rely on an in-house lab to custom-craft restorations, but they can deliver peace of mind for individuals with dental fear through sedation dentistry options.
One of their recent full mouth reconstruction patients explains how convenient his treatment with Dr. Matthew Burton was. "He sat down with me and I explained all the issues that and that I wanted to get some dental implants. I didn't want things that came loose anymore. I wanted something to be done permanently." He expands on his experience, "I'm definitely afraid of needles. They put headsets on me and it took all my worries away. My overall experience at Clearwater Dental has been the best experience that I've had going to any doctor's office."
Those living in the Clearwater, FL area who have minor or major smile concerns can call Clearwater Dental Associates to talk about restorative dentistry and full mouth reconstruction treatments. In addition to their Clearwater location, the team has opened a practice in Dunedin, FL as well. Patients can learn more about the treatments they offer or schedule an appointment at either location by visiting http://www.cdadental.com.
About the Dentists
Clearwater Dental Associates is a team of leading dentists serving patients in the Clearwater area for over 30 years. Drs. Matthew Burton, Keith Kiskaddon, Nolan Allen, Maria Hernandez, James Hayslett, and William Spencer offer comprehensive services at two locations, with offices in Clearwater and Dunedin, FL. The Clearwater facility alone holds 17 seats and over 20 team members. Clearwater Dental Associates provides the latest in dental treatments and technology, including full mouth dental implants, Invisalign®, sedation dentistry, general dental care, and an in-house lab. A patient-centered practice, each doctor and team member is dedicated to patient comfort and education. To learn more about Clearwater Dental Associates or to schedule a personalized appointment, call 727-797-8800 for the Clearwater, FL location, 727-734-3321 for the Dunedin, FL office, or visit http://www.cdadental.com.