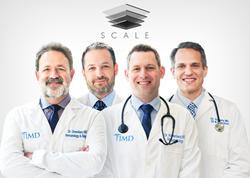 We are honored that 1MD's LiverMD is being recognized by the industry's best-of-the-best in terms of product development, efficacy, and impact. Ziv Haklili, Co-Founder, Scale Media
LOS ANGELES (PRWEB) October 12, 2020
For the second year in a row, esteemed board-certified doctors have signed on to join the 1MD Scientific Advisory Board (2020/2021) to lend expertise and guidance to the fast-growing, next-generation nutritional supplement brand, 1MD, powered by Scale Media. As experts in specific fields, ranging from rheumatology and immunology, to gastroenterology and urology, Dr. Adam Kreitenberg, Dr. Brian Greenberg, Dr. David Kahana, and Dr. Daniel I. Brison, respectively, will continue to support the brand in launching scientifically-proven, groundbreaking nutritional supplements that help people live healthier lives.
Dr. Adam Kreitenberg – A board certified rheumatologist who completed his internal medicine internship, residency, and rheumatology fellowship at the University of Southern California and Los Angeles County Medical Center
Dr. David Kahana – A board certified gastroenterologist and certified Physician Nutrition Specialist, trained at UCLA and who runs the Center for Digestive Health & Nutritional Excellence in Torrance, CA
Dr. Brian Greenberg – An immunologist, allergist, and pediatrician who received his medical degree from the University of Florida, and completed his residency and fellowship at UCLA
Dr. Daniel I. Brison – A board certified urologist who completed medical school at the State University of New York, and residency at the prestigious Endourology fellowship program at UCLA
"We are proud to have attracted a team of renowned medical doctors and thought leaders to our Scientific Advisory Board. Collectively, they represent over 70 years of clinical experience, which will bring significant expertise and insight to the advancement of 1MD's product research and development," said Scale Co-Founder Ziv Haklili. "Together, with their advice and guidance, we look to the future of pioneering the most therapeutic, clinical-strength health supplements on the market."
This announcement of the 2020/2021 Scientific Advisory Boards comes on the heels of 1MD's latest recognition honors as a NEXTY Award Finalist for "Best Condition-Specific Supplement" for 1MD LiverMD®, their clinical-strength liver support product, which includes patented, clinically-proven ingredients shown to promote optimal liver health.
"We are honored that 1MD's LiverMD is being recognized by the industry's best-of-the-best in terms of product development, efficacy, and impact," said Ziv Haklili. "It underscores our commitment to formulating effective products based on integrity, innovation and excellence."
Learn more about 1MD at https://1md.org/.
About 1MD:
1MD is one of five next-generation consumer lifestyle brands powered by Scale Media, an award-winning, tech-driven company in the beauty, health and wellness sector. Their mission is to innovate therapeutic, clinical-strength, physician-formulated health supplements that address America's gravest health concerns. 1MD's growing portfolio of 20+ clinically-proven products helps hundreds of thousands of people live happier, healthier lives. Learn more at 1md.org.
About Scale:
Headquartered in Los Angeles, California, Scale is a tech-driven direct-to-consumer company that builds and deploys next-generation CPG brands in the beauty, health and wellness industries. Through their proprietary eCommerce and digital marketing engine, Scale transforms consumers' end-to-end online shopping experience while increasing brand loyalty and retention. Founded in 2013 by serial entrepreneurs Ben Flohr and Ziv Haklili, the company has rapidly powered and scaled concepts into multi-million-dollar consumer lifestyle brands, including 1MD, Hair La Vie, Simple Beauty, LiveWell, and Essential Elements. Today, Scale's growing portfolio of 70+ products helps hundreds of thousands of people live healthier lives. The company is recognized as a Forbes' Best Startup Employer for 2020, and is the 2020 recipient of the NBJ Leadership & Growth Award. Learn more at Scale.tech.
Scale Media Inquiries: Nicole Khandhar, Director of Operations, Scale Media, nicole.k@scale.tech
1MD Inquiries: Jennifer Fontaine, Creative Brand Manager, 1MD, jen.f@scale.tech