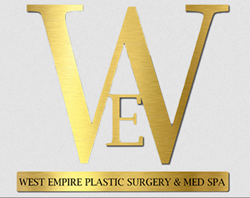 Anyone can make a face look beautiful through makeup, but I can make my clients glow naturally.
LOS ANGELES (PRWEB) November 05, 2020
West Los Angeles-based health and beauty center West Empire Plastic Surgery has announced that esthetician Danielle Lima has joined its medical spa team. Describing her as a trilingual international powerhouse who boasts in-depth knowledge and experience in every facet of the health and beauty field, West Empire Plastic Surgery says Ms. Lima will provide clients with outstanding results as well as invaluable skincare education.
Born in the beauty mecca of Brazil, Ms. Lima says that her involvement in esthetics runs deep. Through her experience as a beauty consultant for luxury brands such as La Mer, Ms. Lima says that she learned all the ins and outs of makeup, skincare, and facial harmonization. She notes, "I decided to get my esthetician's license to speak to my clients from a place of authority." Ms. Lima also adds, "anyone can make a face look beautiful through makeup, but I can make my clients glow naturally — and that's the power of outstanding treatments."
"I like to think of myself as more than an esthetician; I'm more of a skin coach," Ms. Lima says. She explains, "I coach my clients on their skincare regimen, what products to use, and how to use them." Ms. Lima adds that her treatments come from a holistic approach, so she will even recommend dietary changes that can help improve her clients' skin.
As a skin expert who has worked at some of the finest medical spas, Ms. Lima says her signature style is all about luxury and client service that goes above and beyond expectations. "I like to treat every client like royalty because everyone is equally important to me," Ms. Lima says. The esthetician says every client of hers receives a hand mask, hand massage, and paraffin wax treatment at no extra charge. "I pride myself in the little luxuries I can provide my client," the esthetician adds. "In addition to my post-treatment follow-ups, my clients are always welcome to reach out to me via direct message on Instagram or even on my personal cell number."
Ms. Lima notes that she is always seeking out ways to continue growing as an esthetician and learning as much as she can. "I'm currently two years into my nursing degree," she says. She adds that, by expanding her expertise into medicine, she will continue to find new ways to provide the best in information and services for her clients.
Readers interested in learning more about Danielle Lima or services provided by West Empire Plastic Surgery can call (424) 293-8861 or Visit the West Empire Plastic Surgery website.