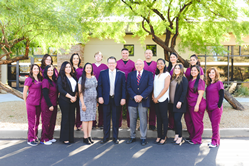 It feels extremely rewarding for our practice to be recognized by Find Local Doctors. Our goal is always to provide patients with compassionate, effective and personalized care, says Dr. Jonathan Wiggenhorn
GOODYEAR, Ariz. (PRWEB) July 28, 2020
Estrella Ear, Nose and Throat is located at 14506 West Granite Valley Drive, Suite 124, in Sun City West, AZ. Find Local Doctors has recently awarded this location the title of being a 2020 Top Patient Rated Sun City West Otolaryngologist. This practice has received a large number of five-star ratings and superior reviews from real patients. Find Local Doctors is a trusted online directory that helps consumers easily locate top-notch, reputable physicians in their area. This well-respected practice is among an exclusive group to receive a high volume of outstanding patient reviews. Estrella Ear, Nose and Throat in Sun City West, AZ, is committed to providing solutions to solve a wide range of conditions.
The physicians at this practice offer comprehensive allergy treatment for the entire family, advanced in-office sinus procedures, such as balloon sinuplasty, and a complete, full-service ear, nose and throat clinic. These ear, nose and throat experts perform thorough testing and treatment for problems such as allergies, chronic snoring, ear infections, cancer, sinusitis and hearing/balance problems for pediatric and adult patients. Minimally invasive procedures are able to be performed as an outpatient appointment at Estrella ENT. The doctors at this practice take the time to assess each patient and provide tailored treatment options. Their allergy treatments allow patients to avoid a hospital visit.
Estrella ENT specializes in helping patients get to the bottom of sinus issues. The team provides effective treatment solutions, including ClariFix for chronic rhinitis, Latera implants for nasal obstructions, sinus surgery/balloon sinuplasy and turbinate reduction surgery. They also offer Vivear nasal airway remodeling, using a recent technology that offers an alternative, minimally invasive option. These sinus procedures can be completed at Estrella ENT's full-service clinic, offering the convenience of patients not having to go to the hospital during this time. The experts at Estrella ENT in Sun City West are passionate about providing an individualized approach and exceptional care to their patients, treating problems quickly and successfully.
"It feels extremely rewarding for our practice to be recognized by Find Local Doctors. Our goal is always to provide patients with compassionate, effective and personalized care," says Dr. Jonathan Wiggenhorn
More about Estrella Ear, Nose and Throat:
At Estrella Ear, Nose and Throat, they value and appreciate each and every patient. The team prides itself on providing a superior, individualized care plan for patients and their family members of all ages. Estrella ENT operates two clinics in Arizona which are located in Sun City West and Goodyear. The two physicians leading the practice are Dr. Jonathan Wiggenhorn and Dr. Alan Brenner. They are both highly-regarded, board-certified physicians with extensive experience and top credentials in their field. All of the team members at Estrella Ear, Nose and Throat are dedicated to providing first-rate, excellent care for their patients. For more information about Estrella Ear, Nose and Throat's Sun City West or Goodyear locations or to schedule an appointment, please visit http://www.estrellaent.com or call (623) 535-8770.