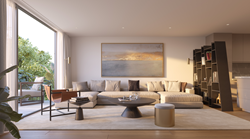 LOS ANGELES (PRWEB) May 26, 2020
etco Homes, an independent and privately-owned homebuilding company, has released the first look at life at The Melrose Collection, a new trifecta of urban communities just steps from famed Melrose Avenue. The first two developments, The Ainsley and The Addison, will comprise a total of 77 luxury condominium and townhome residences in the heart of the Melrose Avenue district, putting residents within walking distance of an array of shopping, dining and entertainment destinations. Pre-sales for The Ainsley and The Addison are slated to begin in summer 2020 with an estimated completion date of fall 2020. A third residential development dubbed The Alfred will also soon join The Melrose Collection, with its sales slated to launch in late fall 2020.
"With a walkable neighborhood and new construction homes topping the list of what buyers are looking for in this changing Southern California market, The Melrose Collection offers a rare opportunity for modern living in close proximity to West Hollywood's most coveted retail and entertainment district, complete with locals' favorite coffee shops, eateries, shopping boutiques and more," said Afshin Etebar, President of etco Homes. "We're excited to reveal our vision for these vibrant new home collections. Combined with the highest level of onsite concierge services and community amenities, these homes will grant residents the convenience of a connected lifestyle that grants access to the best that Melrose and West Hollywood have to offer."
The Ainsley is located at 728 N. Sweetzer Avenue, North of Melrose in Los Angeles' famed Melrose District, offering a total of 49 beautifully crafted single and dual-level condominiums. Homes will feature one to three bedrooms spanning up to 2,468 square feet, with select residences featuring dual master bedrooms, with up to four baths. The community will feature luxury amenities, including an outdoor dining area with BBQs, a water feature, cabana-style seating, an ample resident lounge, fitness center, yoga room, private room for Pilates training and a private massage room for on-site treatments.
The Addison will be located at 724 N. Croft Avenue, offering a total of 28 tastefully designed two- and three-level luxury townhomes. The homes will feature one to three bedrooms with up to three-and-a-half baths. Spanning up to 2,762 square feet, the Penthouse Residences will include expansive decks. Both collections will offer a concierge attendee and furnished lobby.
Designed for the utmost level of wellness care, health and convenience, The Melrose Collection will feature a series of amenities tailored in response to the latest resident needs including Wellness Comfort Stations outfitted with hand sanitizer, tissues for opening doors at community entrances and outside elevator banks and more. The Ainsley will also feature Privatization of Amenities where residents can easily book schedules and cleaning rotations for public amenity spaces for those seeking to "socially distance" themselves.
For more information and to be added to the Interest list for The Melrose Collection, please visit https://www.themelrosecollection.com.
About etco Homes
etco Homes is a privately held, homebuilding company with a focus on boutique urban infill condominium development. With a proven track record spanning more than three decades, etco Homes prides itself on building communities that embrace the character of the neighborhood in sought-after locations from the Southern California coast to Pasadena, downtown Los Angeles to West Hollywood. Each etco Homes community features contemporary design, thoughtful floorplans and generous amenities and services. For more information, visit http://www.etcohomes.com.
Media Contact
Alyssa Lawrence
Murphy O'Brien Public Relations
etcohomes@murphyobrien.com
(310) 586-7173