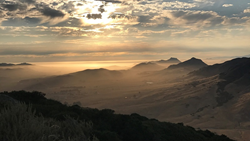 "Cremated remains deserve a final resting place. Summit Saints offers cremation families a truly unique way to lay to rest the cremated remains of their loved ones anywhere in the world. EternityGardens.com is excited to work with Summit Saints serving cremation families."
CHICAGO (PRWEB) August 21, 2018
Summit Saints, an ash scattering service based in Las Vegas, Nevada, has joined the EternityGardens.com platform.
Summit Saints ensures that cremated remains find a peaceful resting place anywhere on the planet. The company designs a journey as unique as the life that was lived – ending with the cremated ashes scattered at a US National Park, on a mountain range, or along a picturesque coast line. Family members may choose to accompany Summit Saints along for the journey, or allow them to transport and scatter the cremains; either way, the company provides a unique and once-in-a-lifetime experience of laying to rest the cremated remains of your loved one.
Sam Patrick, founder of Summit Saints, said: "With cremation rates rising in the US, cremation families want more non-traditional options for the final resting place of cremated ashes. In addition to providing locations across the globe as a final resting place, our company offer families the opportunity to celebrate the life of their loved one in the midst of a journey through some of the most scenic parts of our planet. Our partnership with EternityGardens.com allows us to expand our on-line presence and to serve more cremation families."
EternityGardens.com is an online platform that connects cremation families with scattering services that can lay to rest cremated remains. Whether families are making arrangements in advance; making arrangements for an impending cremation; or searching for options for cremated remains they currently possess, EternityGardens.com offers choices nationwide for ash scattering services that will spread human and pet cremains anywhere in the world.
"Cremation families want a truly unique and personal way to say goodbye to their loved one," said Darrell Hill, founder+CEO of EternityGardens.com. "Summit Saints offers exactly that kind of experience. With Summit Saints addition to our platform, cremation families now have the ability to search for truly innovative options as well as more traditional placements when laying to rest cremated remains. We look forward to serving cremation families together."