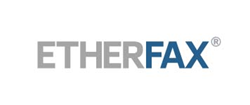 "We're excited to partner with EyeMD EMR and provide them with reliable, secure, and digital fax solutions," Paul Banco, CEO and Co-Founder of etherFAX said.
HOLMDEL, N.J. (PRWEB) December 15, 2020
etherFAX today announced its partnership with EyeMD EMR Healthcare Systems Inc., a leading provider of electronic medical records (EMR) software designed specifically for ophthalmologists. Through the integration, EyeMD EMR and its customers can now exchange protected health information (PHI) with end-to-end encryption, ultra-fast transmission speeds, and guaranteed delivery.
By leveraging the Internet to manage all business-critical fax communications, etherFAX eliminates the need for unreliable network fax systems, phone lines, and costly telephony fees. Utilizing the etherFAX API, EyeMD EMR easily extended its existing fax server solution to the cloud and implemented secure document delivery via the etherFAX Secure Exchange Network (SEN) in short order.
etherFAX SEN is the world's largest fax network, leveraging military-grade encryption and hybrid-cloud technology to provide 100 percent secure communications. EyeMD EMR users can now leverage etherFAX SEN to securely transport critical healthcare and business information via EyeMD EMR 2.0, an all-in-one EMR, practice management (PM), and picture archiving and communication system (PACS) system, without having to change a single workflow. As a cloud-based solution, etherFAX does not require a fax server or additional software.
"We're excited to partner with EyeMD EMR and provide them with reliable, secure, and digital fax solutions," Paul Banco, CEO and Co-Founder of etherFAX said. "By replacing their traditional telephony infrastructure with etherFAX, EyeMD EMR has been able to digitize workflows and enhance interoperability for thousands of medical providers."
EyeMD EMR customers can also use etherFAX's DirectFax solution to send and receive high-resolution, full color documents directly to and from applications and devices within seconds. etherFAX DirectFax seamlessly integrates with today's popular fax servers as well as third-party messaging platforms including Slack, Teams, Microsoft Fax, and mobile applications. To help doctors decide on the best care and treatment options, rich content documents are delivered with near-diagnostic image quality. For guaranteed security and data protection, etherFAX is HITRUST CSF certified as well as PCI DSS and SOC 2 compliant.
"The ability to transmit clinical documents, authorizations, and lab results quickly and securely allows ophthalmologists to improve patient care and streamline communications between insurers, hospitals, and medical groups," said Gus Savloff, Vice President of Sales at EyeMD EMR. "After researching several solutions, we found that etherFAX provided the best pricing and flexibility which allowed us to deliver value-added services to our clients. We're excited to have found a fax service provider that meets our expectations, and we look forward to growing our partnership."
About EyeMD EMR Healthcare Systems, Inc.
EyeMD EMR Healthcare Systems Inc. is an ophthalmology-specific clinical software solution. Officially launched in 2009, the company continues to grow with more than 12,000 users, more than 2,000 ophthalmologists and optometrists, and more than 600 clients, both domestic and international. Its offerings of ophthalmology-driven, all-in-one solutions include EMR, PM and ophthalmic PACS functionality; DICOM image management, one-click coding, ShareCloud, automated workflows, on-the-fly customizations, unlimited training and support, fog technology, MIPS support, and no cost integrations.
With a 100% U.S.-based staff, the privately-owned and debt-free EyeMD EMR is increasing its domestic and international footprint with new software and services. It was top-rated by KLAS, a research and insights firm, in 2019. EyeMD EMR was named one of "America's Fastest Growing Companies" by Inc. 5000 in 2014, 2015 and 2016. For more information, visit http://www.eyemdemr.com or call (877) 2 EYE EMR.
About etherFAX
Founded in 2009, etherFAX® offers a secure document delivery platform and suite of applications widely used across a broad range of industries to digitize workflows and optimize business processes. As a leading provider of hybrid-cloud fax solutions supporting healthcare enterprises, etherFAX securely transmits protected health information and high-resolution, color documents directly to applications and devices with end-to-end encryption and ultra-fast transmission speeds. For guaranteed data protection, etherFAX is HITRUST CSF certified and PCI DSS Level 1 compliant. For more information, visit http://www.etherfax.net, follow us out on Twitter at http://www.twitter.com/etherfax, call us at 877-384-9866, or email sales@etherfax.net.