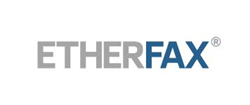 HOLMDEL, N.J. (PRWEB) September 01, 2021
etherFAX today announced its integration with Microsoft Teams. Now available in the Microsoft Store, etherFAX's DirectFax™ Messenger allows Microsoft users to send and receive faxes and other business documents seamlessly and securely using Teams. With DirectFax, users can transmit digital, high-resolution, and rich color documents to other applications within the etherFAX ecosystem as well as traditional fax machines.
"We're proud to continue to grow the etherFAX ecosystem with new app integrations," said Paul Banco, CEO and co-founder of etherFAX. "Now more than ever, organizations need innovative tools to support remote workforces and improve business processes. The ability to securely send and receive faxes and documents with superior color and clarity from Microsoft Teams gives organizations more flexibility and scalability than ever before."
DirectFax™ Messenger allows Teams users to securely send and receive faxes and other business documents via the etherFAX Secure Exchange Network (SEN), a patented Infrastructure-as-a-Service solution. etherFAX SEN is the world's largest fax network, leveraging hybrid cloud technology to provide 100 percent secure communications. etherFAX's DirectFax solution via SEN provides Microsoft Teams users with guaranteed security and data protection, as etherFAX is HITRUST CSF and PCI DSS certified as well as HIPAA and SOC 2 compliant.
Through the integration, Microsoft Teams users can leverage etherFAX SEN to securely transport business-critical information via Teams without having to change a single workflow. As a cloud-based solution, etherFAX does not require a fax server or additional software. DirectFax can be installed for each Teams user one-on-one or can be installed in an existing channel. The DirectFax Teams integration also allows for incoming documents to be routed to specific Teams Channels, thus allowing for an automated digital workflow so the right team receives the right information. etherFAX's DirectFax integration with Teams also allows users to receive searchable and archivable PDFs directly to their Teams channel.
Learn more about DirectFax Messenger by etherFAX in the Microsoft Store.
About etherFAX
Founded in 2009, etherFAX® offers a secure document delivery platform and suite of applications widely used across a broad range of industries to digitize workflows and optimize business processes. As a leading provider of hybrid-cloud fax solutions supporting healthcare enterprises, etherFAX securely transmits protected health information and high-resolution, color documents directly to applications and devices with end-to-end encryption and ultra-fast transmission speeds. With more than 6 million connected endpoints, etherFAX is the world's largest document exchange network, supporting every major fax server, application, and fax-enabled device. The etherFAX partner network continues to grow and evolve to strengthen platform-agnostic document delivery to and from fax providers, fax servers, EHRs, and Health Information Exchanges. etherFAX's secure, cloud-based, and encrypted data exchange solutions are SOC 2 compliant, HIPAA compliant, PCI DSS certified, and HITRUST CSF certified. For more information, visit http://www.etherfax.net, follow us out on Twitter at http://www.twitter.com/etherfax, call us at 877-384-9866, or email sales@etherfax.net.