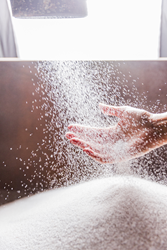 "In today's environment where people are concerned about cleanliness, we are committed to offering a product that will help empower them to have the confidence to worry less and enjoy life more," states Andrea Di Giuseppe, Global CEO.
SEBRING, Fla. (PRWEB) June 10, 2020
E-Stone Corporation (Sebring, FL) and Microban® International (Huntersville, NC) are excited to announce a new exclusive partnership that provides Microban® antimicrobial product protection to E-Stone's etherium™ by E-Stone engineered stone surfaces for the next 5 years.
Microban® is the global leader in antimicrobial technology targeting the invisible microbes that contaminate surfaces. Working continuously, Microban® technology has been proven effective against a broad spectrum of bacteria that would normally double in number every 20 minutes on surfaces. Infusing this technology into engineered stone makes etherium™ the perfect surface material for use on floors, walls, countertops, and bathrooms where customers want to enjoy the peace of mind of having cleaner, longer lasting surfaces.
The patented Microban® technology is built into etherium™ slabs during the manufacturing process, resulting in antimicrobial protection for the life of the product, measured using established international laboratory protocols. The technology does not wash off or wear away and helps provide ongoing protection against the growth of bacteria that can cause product degradation 24 hours a day and 7 days a week, for the life of the product. The benefits of Microban® antimicrobial product protection include improved visible and invisible cleanliness, ultimately, extending the engineered stone product life for customers of E-Stone's sister companies TREND Group and RockSolid Granit.
Produced at E-Stone in Sebring, Florida (USA), etherium™ engineered stone surfaces feature benefits that suit the needs of customers in both the residential remodeling and commercial construction industries. Currently homeowners want to live in places that are cleaner and therefore want products in their homes that support the reduction of bacteria growth. RockSolid Granit, a home remodeling franchise system, has experienced an increase in customer inquiries about better ways to keep their etherium™ surfaces clean. Now with the availability of the new etherium™ by E-Stone with Microban® built-in antimicrobial technology, RSG franchisees are prepared to offer customers exactly what they want in the home, products that stay cleaner for a lifetime.
Focusing on commercial construction projects, TREND Group will now be able to offer contractors, architects, and dealers a premiere surface product that is even better with Microban® antimicrobial benefits for projects intended to provide cleaner environments where people gather, i.e. hospitals, office buildings, spas, gyms, and airports.
"We are happy to announce this new partnership with Microban® International which we feel has come at the perfect time." states Andrea Di Giuseppe, Global CEO TREND Group. "In today's environment where people are concerned about cleanliness in their environments, we are committed to offering a product that will help empower them to have the confidence to worry less and enjoy life more."
ABOUT E-STONE CORPORATION
E-Stone Manufacturing is part of TREND Group, a global leader in surfaces for residential and commercial use. Based in Sebring, FL, E-Stone Corporation is an innovator in the industry, as it implements advanced sourcing and manufacturing processes and practices which reduce impact on the environment, while creating the highest quality product. (https://www.etheriumbyestone.com)
ABOUT MICROBAN® INTERNATIONAL:
At Microban®, we promise to redefine clean with proactive product protection that lives on. Our proactive systems keep products cleaner, and control odors better by preventing problems before they start. Microban® drives innovation by combining science and creative solutions that enhance high quality consumer, textile, industrial and medical products around the world. Today the Microban® brand and technologies are featured on thousands of products worldwide. The company is headquartered in North Carolina, USA with operations in North America, Europe and Asia Pacific. (https://www.Microban.com)
Disclaimer: Microban® technology is not designed to protect users against disease causing microorganisms. Microban® Products Company makes neither direct nor implied health claims. Normal cleaning practices should be maintained.