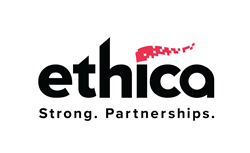 "Ethica is listening to what our channel is saying, ensuring that our roadmap is in-line with their needs. We want to be the best vendor choice our channel ever makes."
TORONTO (PRWEB) January 16, 2020
Toronto-based Ethica Channel Enablement Inc. (Ethica) today announced that is has hired Alan Zimmermann to lead the company into 2020 and beyond.
Ethica, a start-up making waves in the SD-WAN space with its focus on enabling the myriad small- and medium-sized service providers and end-customers, made the decision as it began to take its software, CloudAccess, to market at the end of 2019.
"Our focus has always been to find the most efficient, robust, and simple way to bring our product to market," explains founder Cameron Couch. "In order to build and sustain a lean operating model, we needed someone with an Operations pedigree, experience in the space, and a critical eye to come in and look at where we are. Alan has the skills and experience to help us execute with precision, build the company to scale faster, and prioritize the decisions needed to have the most positive impact on our channel and customers. Alan has been Chair of our Board since we started the company and was our guy to take the company to the next level from the get-go."
Zimmermann, an accomplished ICT service delivery executive with extensive experience leading teams in Network & Security Operations and Quality Management Systems, is recognized for being results oriented and decisive, translating strategy into tangible actions and then leading disciplined execution with significant bottom line improvement. Alan was previously Vice-President at a competitive SD-WAN provider in Canada, where he ran Operations and started to hone his skills in this space. By managing through the challenges that many SD-WAN service providers originally faced when scaling their delivery model, he was able to bring a vision of achieving scale through automation and simplicity – and has quickly applied that vision into Ethica's operations.
Ethica is a part of what some are calling the second-wave of SD-WAN, a movement by a few vendors to deliver SD-WAN features to customers that are largely being overlooked by the incumbents. Since its popularization in mid-2015, SD-WAN has become the competitive WAN solution for distributed enterprises but has largely failed to find a home with Small and Medium Businesses. Ethica plans to change that – providing SD-WAN features like network resilience, smarter use of available bandwidth, and greater insight into WAN traffic realities at a significantly more palatable price point.
"We have the app for that," states Zimmermann, who's been leading the team since November of 2019. "Until now, SD-WAN was, like all new products and services, reserved for the wealthiest of large business customers. The automation, user-friendly GUI, and streamlining of the feature-set gives Ethica an advantage over the existing players in the space. If you want to operate at scale, you've got to have a clear value proposition, a product that is easy to sell, an ability to collect and leverage operational data, and no barriers to entry. Ethica is determined and well positioned to support tens of thousands of sites by having thought through the customer journey and mapped where it can provide value along each step of the way."
Each team-member at Ethica averages 10 years' experience with SD-WAN – having learned how to acquire and enable channel partners to deploy SD-WAN with as minimal touch as possible and provide value beyond just the technology itself. It's what makes Ethica a unique player in the space.
"We want to be the best vendor choice our channel partners will ever make," continues Zimmermann. "And our team is listening to what our channel is saying, ensuring that our roadmap is in-line with their needs, that our price-point maximizes their profitability, and that we're helping them run better businesses."
Ethica is currently working with service providers across North America to validate its product and associated processes and plans to launch to a wider audience in the coming weeks. Interested service providers should contact Ethica directly.