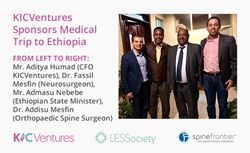 "I believe the key to the advancement of the African continent and other predominantly black countries, is for successful diasporans to invest in their country's development, and healthcare is a major industry for supporting growth and attracting diasporans back home."
MALDEN. Mass. (PRWEB) March 29, 2019
CFO and Managing Partner Aditya Humad of KICVentures (a leading healthcare investment holding company) accompanied Dr. Fassil Mesfin, a neurosurgeon and professor at the University of Missouri and Dr. Addisu Mesfin, an Orthopedic Surgeon and Associate Professor at the University of Rochester, to their home country of Ethiopia on a ten-day trip this January. This is the second sponsored trip for these surgeons by KICVentures in less than two years.
Ethiopia has one of the fastest growing economies in Africa, and its second largest population (more than 100 million). Nine months ago, Abiy Ahmed was elected Prime Minister and has made sweeping reforms in the country, shifting away from its recent history of autocracy and encouraging Ethiopia's people to use new ideas to build a sophisticated economy.
KICVentures CEO, Professor Dr. Kingsley R Chin -who is Jamaican-born, says, "I believe the key to the advancement of the African continent and other predominantly black countries, is for successful diasporans to invest in their country's development, and healthcare is a major industry for supporting growth and attracting diasporans back home."
Aditya Humad who attended the trip was able to discuss sustainable long-term business opportunities with public and private hospitals and the government in Ethiopia to scale efforts in treating the broader population.
Mr. Humad said, "We are in the business of innovation and helping people, and it is very rewarding to see how our donated products have transformed the lives of people who otherwise had no means or access to the solutions. I also learned a lot about the local healthcare needs and opportunities by meeting members from the public, private, and government sectors. We remain very excited about the long-term growth prospects in Africa and have begun the process to introduce our LES Technologies in Ethiopia soon."
Dr. F. Mesfin and Dr. A. Mesfin spent the first two days in clinic evaluating 30 patients and selecting eight elective surgical patients. The surgeries took place in the AaBET Trauma Center of Saint Paul's Hospital, a large public hospital in Addis Ababa. A dedicated spine clinic was started in 2017 and has treated several young patients with trauma and scoliosis. Spine care is relatively new to the hospital and surgical treatment is currently dependent on donated implants.
"Working with the excellent local surgeons and treating complex spine deformity was a humbling experience," said Dr. Addisu Mesfin. "I look forward to continuing our clinical and educational collaborations with the surgeons and residents at AaBET hospital."
Cases included: a 22-year-old male with a history of Pott's disease and L1-L2 kyphosis, who underwent Ponte osteotomies T12-L1, L1-L2, L2-L3 and posterior spinal fusion T11-L3; a 16-year-old male with a large thoracic scoliosis; a 16-year-old female with a history of TB and with subsequent T9-T10 kyphosis; and a 16-year-old female with large thoracolumbar curve and TL junction kyphosis.
SpineFrontier donated several technologies to the LES Society for this medical mission, including SpineFrontier's PedFuse® Lumbar Pedicle Screws, Invue® Cervical Plates and Arena-C® Cervical PEEK Interbody Cages
Dr. Fassil Mesfin said, "This was a high yield clinical and educational trip to Ethiopia. We will continue to work with our friends to advance our collaboration with excellent surgeons. I am looking forward to the next trip."
About SpineFrontier
SpineFrontier is a medical device technology company founded in 2006 that designs and develops proprietary, best-in-class implants and instruments for spine surgery based on the trademarked Less Exposure Surgery (LES (TM)) philosophy. SpineFrontier is a KICVentures' portfolio company and the leader in LES technologies.
About LES Society
The Less Exposure Surgery (LES (TM)) Society is dedicated to leading the charge of proving LES treatment options as the best solution to lowering the cost of healthcare, improving outcomes and increasing patient satisfaction.
About KICVentures
KICVentures is a private investment holding company founded by Harvard-trained Orthopedic Surgeon & Professor Dr. Kingsley R. Chin, who brings unique experience at the intersection of medicine, business and information technology. KICVentures is equipped with a strong advantage in identifying niche healthcare opportunities and has a proven track-record of building the most disruptive spine technology portfolio, including NanoFUSE and SpineFrontier. It has headquarters in Boston, MA.