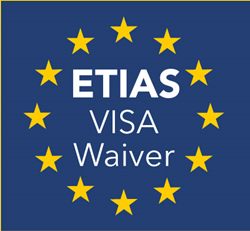 MIAMI (PRWEB) August 26, 2019
Etia.com is the number one online resource for those who are seeking information regarding ETIAS, the European Travel Information and Authorization System that is going to be functional starting with January 1, 2021. ETIAS is a simple, stress-free solution to those travelers that are planning to have a short-term journey throughout the Schengen Area, a group of 26 countries that eliminated internal border controls so travelers could move freely between these countries. ETIAS will check the security credentials of visitors and will charge them with a fee when visiting EU member countries for reasons such as business, tourism, medical, or just for transit purposes. Today, travelers who visit Europe visa-free can enter any EU and Schengen member countries without having to pay any fee and without any digital security screening prior to their arrival in Europe.
ETIAS is considered to be a visa-waiver. Travelers that are not required to have a visa to visit Europe will undergo additional security checks before being permitted to enter into the EU. The purpose of ETIAS is to gather as much information as possible on travelers who are currently traveling visa-free to the European Union in order to ensure that individuals who can pose security concerns are identified before they are allowed to travel to Schengen countries. ETIAS will improve the external and internal security of E.U. citizens with the help of a centralized system that will be used to issue travel authorizations to E.U. visitors and to monitor their trips within the Schengen area.
Travelers that want to apply for ETIAS will need a valid passport and a completed ETIAS application. Applying for a Schengen Visa can be quite a complex process for many persons, but with the help of ETIAS, that complex process will be soon forgotten. With ETIAS, visitors will save money before reaching Europe, by not having to schedule an interview with an embassy or consulate and then spend money to go to the embassy or consulate. ETIAS will only cost 7€ for persons that are between the ages of 18 and 70, and it will be free for persons under the age of 18, or over the age of 70.
Applying for ETIAS can be done only online. The online application can be completed in less than 10 minutes and after submission, it will be processed instantly in order to obtain a decision from the system in less than 4 days. In rare occasions, an application can be processed in as much as 4 weeks if additional documentation from the applicant is needed. ETIAS applications are checked through numerous databases, including Interpol and Europol, before approval. Once an application is approved, the ETIAS is electronically attached to the applicant's passport and is validated. The ETIAS is valid for three years, or until the passport expires, whichever comes first, and it can be used for stays that are up to 90 days in a 180-day period.
A valid ETIAS will allow travelers to visit the following list of countries and ETIAS participants: Austria, The Azores, Belgium, Canary Islands, Czech Republic, Denmark, Estonia, Finland, France, Germany, Greece, Hungary, Iceland ,Italy, Latvia, Liechtenstein, Lithuania, Luxembourg, Madeira, Malta, Netherlands, Norway, Poland, Portugal, Slovakia, Slovenia, Spain, Sweden, and Switzerland.
To apply for an ETIAS, visitors will have to be citizens of the following countries: Albania, Antigua and Barbuda, Argentina, Australia, Bahamas, Barbados, Bosnia and Herzegovina, Brazil, Brunei Darussalam, Canada, Chile, Colombia, Costa Rica, Dominica, El Salvador, Georgia, Grenada, Guatemala, Honduras, Hong Kong, Israel, Japan, Kiribati, Macau, North Macedonia, Malaysia, Marshall Islands, Mauritius, Mexico, Micronesia, Republic of Moldova, Montenegro, New Zealand, Nicaragua, Palau, Panama, Paraguay, Peru, Saint Kitts and Nevis, Saint Lucia, Saint Vincent and the Grenadines, Samoa, Serbia, Seychelles, Singapore, Solomon Islands, South Korea, Taiwan, Timor-Leste, Tonga, Trinidad and Tobago, Tuvalu, Ukraine, United Arab Emirates, United Kingdom, United States of America, Uruguay, Vanuatu, and Venezuela.
Applicants who manage to obtain an ETIAS approval are not guaranteed the right to enter in an ETIAS member country. The final decision belongs to the customs agents who will process the entries into a participating country. In most cases, there will be no problems for visitors who are seeking to travel legitimately in the Schengen Zone and they are not seeking for a job or are trying to migrate unlawfully. Tourists who plan to visit Europe for a period that does not exceed 90 days in a 180-day period will be granted entry. Even persons that are traveling on business purposes in Europe, but do not plan to work in the countries they visit and they simply want to attend a business conference, workshop or client meeting will enter in an ETIAS member country without having difficulties.