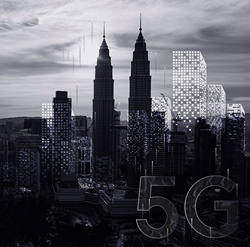 AMSTERDAM (PRWEB) January 27, 2020
Etiya, the leading Independent Software Vendor, will showcase its 5G Intelligent Slicing Platform at Mobile World Congress 2020 in Barcelona, addressing its theme "Limitless Intelligent Connectivity"
The key features of Etiya's 5G Intelligent Slicing Platform are:

Empowerment by Etiya's Artificial Intelligence
"Plug and Play" Slice Creation
Enriched API Exposure
Agile Monetization of Ecosystem
Faster Deployment and Time to Market
Etiya's 5G Intelligent Slicing Platform enables operators to offer flexible, AI based slicing to monetize and manage their 5G ecosystem. It will allow service providers to generate additional revenue by offering Network as a Service Business Model, monetize tailored services agilely, deploy the services faster, and provide guaranteed quality of service levels.
As the Platform is not dependent on existing BSS, there will be no need for extensive development work to integrate with Operators' entire infrastructure to support tailored slicing. It is flexible to integrate with any orchestration layer and tenant ecosystem.
"Our 5G Intelligent Slicing Platform perfectly aligns with this year's theme of MWC – Limitless Intelligent Connectivity," said Aslan Dogan, CEO of Etiya. "Intelligence and Connectivity will become the conjoined twins of the future and 5G will empower the convergence of technologies and create limitless opportunities for Service Providers to offer the ultimate customer experience."
You can learn more about Etiya's 5G Intelligent Slicing Platform at Stand (Hall 5 – 5I65) during Mobile World Congress taking place in Barcelona at Fira Gran Via on 24-27 February 2020.
Contact marketing@etiya.com to book a meeting with Etiya executives.
About Etiya
Etiya is a leading software company providing customer experience focused AI driven Digital Transformation with its own award-winning product portfolio.
Founded in 2004, Etiya has more than 850 highly qualified employees and offices in 3 continents and 7 countries.
Its microservice-based architecture, DevOps methodology and AI-driven portfolio provides competitive advantage to its customers by bringing agility and flexibility into their business.
Etiya provides turn-key, end-to-end digital transformation to many customers worldwide from different sectors including telecom, finance and retail.
With the "Connected Customer First" approach which prioritizes the digital customer experience and the agile methodology it applies, becoming digital-ready is possible in a matter of months via fast delivery of products and solutions.
In 2019, Etiya won the TM Forum Disruptive Innovation Award for its Fizz project and the Outstanding Catalyst Innovation Award for the Digital Twins proof of concept project.
Etiya exists to move agilely beyond existing standards in its relationships with the customers, in innovation, and in its ambition to expand and grow.
Exceed, Every Day
http://www.etiya.com