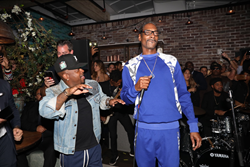 Eugene Remm and Mark Birnbaum, co-owners of Catch LA, celebrated the venue's first birthday with an impromptu performance by Snoop Dogg
Los Angeles, California (PRWEB) October 12, 2017
October 12th, 2017
Eugene Remm and Mark Birnbaum, co-owners of celebrity haunt and globally influenced seafood restaurant Catch LA, celebrated the venue's first birthday with an impromptu performance by Snoop Dogg.
With a live band playing in the background, guests including actor Tobey Maguire, Clippers coach Doc Rivers and player DeAndre Jordan, Golden State's Draymond Green, music figures Jermaine Dupri, Scooter Braun and David Foster, comic Marlon Wayans and Karrueche Tran enjoyed dinner with Remm and Birnbaum's guests until hip-hop legend Snoop grabbed the mic for a surprise performance of hits "Drop It Like It's Hot" and Dr. Dre's "The Next Episode".
The celebration marked a milestone for Catch owners Mark Birnbaum and Eugene Remm.  The duo, who recently feted the 6th anniversary of the Catch NYC flagship, have recently announced a new partnership in EMM Group with billionaire and Houston Rockets owner, Tillman Fertitta.
For more information about Catch visit  http://www.catchrestaurants.com or follow @catch on Instagram.