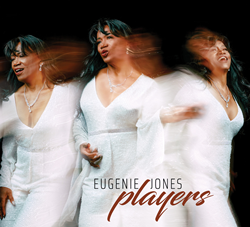 ]Making this album] was way beyond anything I'd ever done. And while it was a foreboding prospect, once I make up my mind, I'm very tenacious about doing what it takes to achieve my heart's desire.
RICHMOND, Calif. (PRWEB) January 04, 2022
"Wide-ranging" takes on a new meaning with the March 11 release of vocalist/composer/lyricist Eugenie Jones's "Players" on her own Open Mic Records. Jones's third album is the result of an odyssey that took her from her Pacific Northwest base (Seattle) to the Deep South (Dallas), the bustling East Coast (New York), the Midwestern Plains (Chicago), and back again, working in the process with a jaw-dropping spectrum of major jazz musicians that includes (among others) bassists Reggie Workman and Lonnie Plaxico, trombonist Julian Priester, keyboardist Shaun Martin, drummer Dan Weiss, and percussionist Bobby Sanabria.
The multiple settings and ensembles are not incidental; making music in each region of the United States is the double-disc recording's central concept. "It was way beyond anything I'd ever done," Jones says, who produced the album and shared A&R duties with Workman. "And while it was a foreboding prospect, once I make up my mind, I'm very tenacious about doing what it takes to achieve my heart's desire."
The diversity of "Players" extends to its tunes as well. Its Dallas session alone (featuring bassist Lynn Seaton and drummer Quincy Davis along with Martin) includes the Gershwins' joyous swinger "I Got Rhythm" and two distinctive Jones originals: "There Are Thorns," an anthem of determination, and the darkly soulful "One More Night to Burn." Chicago's output includes two Irving Berlin pieces in contrasting styles; "You Can Have Him" has a late-night lounge feel, while "Blue Skies" has an urgent, funky cast, highlighted in a Fender Rhodes solo by Kevin O'Connell.
In Seattle, Jones explores Billy Strayhorn's moody ballad "Multicolored Blue," Nina Simone's blues-drenched "Do I Move You," and four of her own tunes, using three completely different lineups across the six tracks. Meanwhile, the New York session focuses on Jones's originals, but these range from a hard-edged Latin groover ("Ultimo Baile En Casa," featuring Sanabria) to a mellow, Quiet Storm-like ballad ("As Long As") that trumpeter Marquis Hill underlines in a beautiful solo.
The common bond, of course, is Jones. Her full alto voice, impeccable delivery, inventive rhythm, and expressive technique form an indelible stamp on songs of every type, across every city and musician. Imbuing her original compositions with remarkable verve and passion, she also breathes startling new life into the standard repertoire, claiming the familiar tunes as completely her own.
Eugenie Jones was born and raised in Morgantown, West Virginia, in a singing family: Her parents, Eugene and Tommie, were members of the choir at Friendship Baptist Church. Surrounded as she was by music, however, Jones at first had other plans for herself. She earned an MBA and moved to Seattle, where she started both a family and a successful career in marketing communications.
In 2008, when Tommie passed away, Jones wanted to hold on to a piece of her mother. That drew her back to singing, which in turn drew her to the rich local jazz scene in Seattle. After spending several years honing her craft with the finest musicians in the Pacific Northwest, she recorded "Black Lace Blue Tears" in 2013. It was greeted with widespread acclaim on release, becoming the first vocal album ever to win the prestigious Earshot Jazz NW Recording of the Year. 2015's "Come Out Swingin'" was similarly celebrated, breaking Jazz Week's Top 50 and winning Jones another Earshot Jazz award (NW Vocalist of the Year).
Even as she thrived as an artist, however, Jones brought her considerable skills as a businesswoman to the local music industry. She founded two nonprofits, the education-centered Music Discovery Center (MDC) and the event-producing Music for a Cause. Under the latter auspices, she serves as Executive Producer of the Jackson Street Jazz Walk, an annual block party community event that both commemorates Seattle's contributions to African American music history and raises funds for local community service organizations.
This combination of creativity, skill, and resourcefulness leaves no doubt that Jones has the capacity to outdo even the impressive accomplishment of "Players." "As a lifelong learner in pursuit of being better today than I was yesterday," she says, "I will always look to answer that internal question of 'what's next.'"
This winter and spring, Eugenie Jones will be bringing the music of "Players" to the cities where it was recorded, starting with a hometown show at the Royal Room, Seattle, Sat. 3/12, then cross-country to the Cloakroom, Harlem, NY, Sat. 4/2, and the Jazz Forum, Tarrytown, NY, Sun. 4/3. Additional dates will be announced soon.