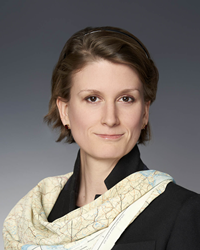 "I look forward to making the costs and consequences of US foreign policy in Asia clear and meaningful to the American public." -Caroline Baxter, Eurasia Group Foundation Research Fellow
NEW YORK (PRWEB) December 21, 2020
The Eurasia Group Foundation (EGF) today announced that Caroline Baxter has been hired as a research fellow. Ms. Baxter, who will be based in Washington, DC, will conduct research and analysis for EGF's Independent America project, which explores the advantages and policy implications of a less militarized US foreign policy. Ms. Baxter, who spent the past decade at the RAND Corporation, will focus specifically on US foreign policy in Asia.
Allyn Summa, executive director, commented, "I am thrilled Caroline will be joining EGF. Her expertise in defense and national security issues throughout Asia and the Indo-Pacific will help us better define America's security interests in Asia, and better understand the complexities of the US-China relationship."
Ms. Baxter most recently served as a senior policy analyst at the RAND Corporation, where she gained valuable experience in defense posture, force planning, and the formulation of national security strategy.
Prior to RAND, Ms. Baxter worked at the National Democratic Institute in the Middle East and North Africa section. Her work initially focused on Iran and Israel/Palestine, where she served as an election monitor in the West Bank. She subsequently concentrated on North Africa, opened NDI's first office in Mauritania, and co-managed NDI's election monitoring there of the post-coup presidential elections in March 2007.
"I'm thrilled to be joining EGF," said Baxter. "The US has an opportunity to fundamentally change the structure and substance of its foreign policy - especially towards Asia, given the simultaneous rise of the great power competition narrative and the sunset of the Trump Administration's America First foreign policy. EGF's mission and the work of the Independent America project has never been more important. I look forward to making the costs and consequences of US foreign policy in Asia clear and meaningful to the American public."
Mark Hannah, a senior fellow at EGF who leads the Independent America project, also welcomed Ms. Baxter: "EGF is fortunate to bring Caroline Baxter on staff to build out the Independent America project. Caroline possesses a rare blend of scholarly rigor and entrepreneurial energy, and this will help EGF expand the impact of its work around US policy in Asia."
EGF is a nonpartisan, nonprofit organization committed to helping people make meaning out of the impact geopolitics has on their lives by empowering them to get involved in the issues that matter to them most. EGF takes complex issues and ensures they are accessible to everyone through traditional and nontraditional media, including events and meetings, papers and presentations, videos, infographics, podcasts, and the full array of social media. http://www.egfound.org.