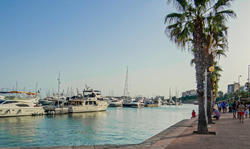 "Our five city picks offer high-quality, sophisticated living at a relatively low price."
BALTIMORE, Md. (PRWEB) February 19, 2019
"When people think of retiring to Europe, they usually assume it's something only a wealthy person could afford," says Jennifer Stevens, Executive Editor, International Living. "It's understandable—but not true. Most travelers gravitate toward high-profile destinations like Paris, Rome, or Madrid and pay tourist prices there. But second-tier cities often offer many of the same cultural advantages, but with a much lower price tag."
"Our five city picks offer high-quality, sophisticated living at a relatively low price."
The International Living report details 5 good-value locales in Portugal, Spain, Italy, Croatia, and Malta, all countries that score well on the International Living 2019 Annual Global Retirement Index.
Peniche, Portugal
The city Peniche sits on the west coast of Portugal, along the Silver Coast, about an hour northwest of Lisbon. Built on a rocky peninsula, its geographical prominence made the sleepy fishing village a target of invaders from the 16th century.
"The solution? Construct a fortress," says IL Portugal Correspondent, Tricia Pimental. "Standing on its ancient ramparts, smelling the salt air, I imagine those who came before me. These walls kept out some (like marauding pirates), kept in some (like political dissenters of Prime Minister António Salazar in the '50s and '60s), and offered a warm welcome to others, like refugees from former Portuguese colonies in Africa.
"That's what I found, here—a warm welcome.
"The city has a long history of lacemaking. By the 1800s, Peniche boasted almost 1,000 skilled artisans creating their exquisitely fine masterpieces. The numbers are smaller today, but you can still watch women, and some men, working in town, especially in summer, when an international bobbin lace exhibition takes place."
The long and sandy beaches in Peniche are a sunseeker's dream. These areas are consistently windy, making them attractive to surfing, windsurfing, and bodyboarding enthusiasts.
The climate in Peniche is cool compared to the inland Alentejo region and the warmer, southern region of the Algarve. January and February are the coldest months, with highs of 57 F and overnight lows of 50 F. Summertime temperatures range from about 70 F down to 63 F. With 25 inches of rainfall annually, it compares well to the city of Porto in the north, with its 50 inches.
Getting here is straightforward. "Fly from New York's JFK to the capital, Lisbon, rent a car and you'll arrive in Peniche in an hour or so," recommends Tricia.
"The budget-conscious will be happy to hear that Portugal has the second lowest cost of living in Europe after Bulgaria. I was in Peniche for less than a week, but, if you planned on a monthly rental of $500, you could easily buy groceries, dine out, and use local transportation for less than $1,400 a month."
Alicante, Spain
Alicante is a lively, sunny, and inexpensive port city on Spain's southeastern Costa Blanca with a charming and sophisticated culture similar to that of Madrid. The Costa Blanca's climate is arguably the best in Europe, with 325 sunny days a year and low humidity.
A Mediterranean city of more than 330,000 people is obviously no secret. But most visitors to Alicante are Spaniards, with the majority of travelers only encountering Alicante's airport—the gateway to sprawling Benidorm and other Costa Blanca resorts.
Alicante has eight splendid beaches. San Juan Beach alone stretches for over four miles. Below Saint Barbara's Castle, an old Moorish fortress, there's a marina, parks and plazas, cinemas, and a theater.
Lined with palm trees and paved with 6.5 million marble tiles, the Explanada is the promenade. It's perfect for the paseo, the evening stroll when everyone is out and about, eating ice cream and chatting outside café-bars.
Alicante keeps traditional Spanish hours. If you want an early lunch, think 2 p.m.—sitting down at 3 p.m. isn't considered late. Most stores and offices close for the three-hour afternoon siesta and don't reopen until 5 p.m. for the shopping/working evening session.
A couple can live well in Alicante on $2,390 per month.
Bologna, Italy
Emilia-Romagna is a region of Italy that stands out for its quality of life and beautiful cities. This northern region is one of the wealthiest in Italy and is widely considered to have a great lifestyle, great transportation connections, and a rich array of cultural pursuits. But it doesn't come with a hefty price tag. A couple can live well here on a monthly budget of $1,190.
Covering a wide expanse from Piacenza, just 67 miles from Milan, all the way to the Adriatic Sea, it takes in fertile plains along the Po River valley, verdant hills, lofty peaks, and sandy beaches. The area has a formidable food heritage such as Parmigiano-Reggiano cheese, prosciutto di Parma (cured ham), mortadella, balsamic vinegar, and more.
The largest city and regional capital is Bologna. Home to Europe's oldest university, it gets the most attention as a destination, and is both hip and historic. Bologna is also famous for its food.
Expat Cathy Pegolo loves cities with theaters, music, restaurants, and culture. And she has found all that and more in her new home of Bologna.
Cathy's Italian heritage inspired her to visit the "old country" and she and her husband, Paul, traveled widely in Italy before finally deciding to buy a place of their own there—a small apartment within the original Roman encampment.
"We regularly attend the opera, classical concerts, and even a Bob Dylan concert," Cathy says. "There are free concerts (donation only) organized by the Oratorio Di Santa Cecelia in the church of San Giacomo in Via Zamboni, just a few hundred feet from our apartment."
Split, Croatia
Split is a town on Croatia's Dalmatian Coast. Home to the Roman Emperor Diocletian's fourth-century palace, the city makes a great base for seeing the whole coastline and region.
Inside the walled city, there are many curious nooks and surprisingly spacious squares. Foodies will find the fish market, located just outside the city walls, fascinating. And walkers and view-seekers should make time to walk up Marjan Hill and then come back down to walk the seaside path that winds around the hill along the coast.
In Split, locals rave about the gorgeous weather and more manageable crowds of September and October. At this time of year, the sea is often still warm enough for swimming and everything is still open, but prices tend to drop as the crowds thin.
Most flights from the U.S. go through Zagreb (Croatia's capital) or another major European city with direct flights to Split or Dubrovnik.
"When it comes to European destinations, Croatia tends to be a bargain—as long as you don't base yourself in Dubrovnik in the heart of summer season," says IL contributor, Gigi Griffis.
"A month in Split, Croatia, including groceries, meals out, local transportation, gifts, and accommodations in November, cost me less than $1,350. A month in an apartment just outside Dubrovnik for the month of March—again including everything from local transport to meals to accommodations and attractions—cost just under $1,600."
Valetta, Malta
Nestled in the Mediterranean Sea, just 60 miles from the Italian island of Sicily, Malta offers a charming and a peaceful lifestyle.
At only 122 square miles, the tiny island has something for everyone, from ancient walled cities and breath-taking coastal trails to countryside farmhouses and delightful restaurants.
Home to a number of UNESCO World Heritage sites, the islands—with over 155 miles of coastline—benefit from warm weather year-round.
Once a British colony, the locals speak fluent English and their welcoming, warm attitude makes for easy integration.
Malta has been a coveted destination for centuries and Valletta, Malta's capital city, is an especially desirable location—the European Capital of Culture 2018. With rolling hills reminiscent of San Francisco, Valletta offers incredible views of ships entering and leaving its harbors.
Dollars can go surprisingly far here, with couples living comfortably on $2,600 per month.
More information on five affordable European spots can be found here: Europe's Top 5 Affordable Retirement Havens
Editor's Note: Members of the media have permission to republish the article linked above once credit is given to Internationalliving.com
Further information, as well as interviews with expert authors for radio, TV or print, is available on request. Photos are also available.
For information about InternationalLiving.com content republishing, source material or to book an interview with one of our experts, contact PR Managing Editor, Marita Kelly, +001 667 312 3532, mkelly@internationalliving.com
Instagram: https://www.instagram.com/internationalliving/
Twitter: @inliving — https://twitter.com/inliving?lang=en
Facebook: https://www.facebook.com/International.Living/
About International Living
Since 1979, InternationalLiving.com has been the leading authority for anyone looking for global retirement or relocation opportunities. Through its monthly magazine and related e-letters, extensive website, podcasts, online bookstore, and events held around the world, InternationalLiving.com provides information and services to help its readers live better, travel farther, have more fun, save more money, and find better business opportunities when they expand their world beyond their own shores. InternationalLiving.com has more than 200 correspondents traveling the globe, investigating the best opportunities for travel, retirement, real estate, and investment.