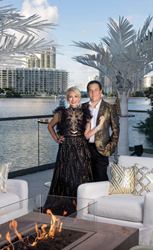 "Before I even finished my first class, I knew I wanted to be a part of OHM Fitness," said Coba.
SCOTTSDALE, Ariz. (PRWEB) November 14, 2022
The newest fitness franchise to hit the market, OHM Fitness, has just earned a strong stamp of approval from European Wax Center co-founder Joshua Coba. Coba has secured area developer rights, a minority ownership investment in the franchise and has committed to serve as a board member.
OHM Fitness is a new fitness franchise that uses EMS (electro muscle stimulation) technology wirelessly and in small group classes. Offering a high-tech fitness experience that packs the benefits of an intense two-hour workout into a low-impact, 25-minute session, OHM Fitness opened its first studio in the company's headquarters of Scottsdale in June. Coba has purchased the area representative rights for the South Florida territory, which includes 34 franchise licenses. He and his wife, Jenni, will open and operate multiple locations themselves and will assist OHM Fitness in selling the other licenses to qualified, multi-unit franchisees.
Coba co-founded European Wax Center (NYSE: EWCZ) with his brother in 2004 and began franchising the concept in 2008, growing it to over 900 open locations and over 300 additional licenses in development. He retired from the concept in 2017 but remains a shareholder and supported the company through its $180 million IPO in 2021.
"OHM Fitness is one of the most exciting franchise concepts I've seen in a long time," said Coba. "I've known the founder Doug Payne for about 15 years. He was one of the first investors in European Wax, when the concept was in its infancy. He believed in the concept and in turn, believed in me. It's really come full circle that now I have an opportunity to support him in the growth of a franchise concept he has built from the ground up."
Payne was in fact the very first European Wax franchisee to open a location outside of Florida where the concept was born. He opened his first location in Scottsdale (in the very same shopping center where OHM's first location lives) in January 2009 and by 2022 he had owned and operated 15 locations. Payne had a successful exit from his European Wax Center stores in May to focus on OHM Fitness.
Coba and his wife flew out to Scottsdale in August to meet with Payne and try an OHM Fitness class and he was instantly sold. He says that along with the 25-minute, efficient workout being a very strong selling point, it's an affordable investment with a relatively low cost to get up and running.
"Before I even finished my first class, I knew I wanted to be a part of OHM Fitness," said Coba. "The workout is perfect for me; I can't really engage with heavy weights, and I find that in a traditional workout, I use the rest of my body to compensate and often am unable to keep proper form and get a great workout. OHM gives you a great, full-body workout in 25 minutes and the suit helps keep you in the proper form while hitting muscles that most people don't work out effectively. Even more, the pulses help your brain to not focus on the things that often hold you back from hitting your fitness goals."
The creation of OHM Fitness has allowed Payne to leverage two very different facets of his life. Over the last 15 years, Payne has had the chance to work with some of the world's most successful concepts at the franchisor level, including Massage Envy, European Wax Center and Orangetheory Fitness. He also has worked as an area developer for Orangetheory Fitness, and a multi-unit franchisee for European Wax. This experience has given him a deep understanding of all areas of franchising. Plus, given the nature of the EMS technology that is the core component of the concept, Payne has been able to utilize his initial training and background in electronic engineering with the United State Navy and then with Boeing.
Along with developing South Florida, Coba will serve as a board member to OHM Fitness as Payne and his founding team work to strategically bring OHM Fitness to every major market in record time.
"Josh built one of the most successful franchise concepts in the nation and having him believe so deeply in what we're building at OHM Fitness to the extent that he wanted to own a part of the concept is amazing. This is a once-in-a-lifetime kind of brand we are building, and we're preparing for a wild ride," said Payne.
At OHM Fitness, guests are immersed in a high-tech fitness experience with every visit. The wearable technology, called the EMPower Suit, has the ability to produce impressive results with a desirably low rate of wear and tear on the joints, ligaments, and muscles. This low-impact workout has been connected to researched-based benefits such as fat loss, skin health, energy, stress and anxiety levels, muscle strength, and acute and chronic pain. While the body's central nervous system can only send frequency impulses that control up to 50% of your muscle fibers during an exercise, the EMS technology within the wireless EMPower Suit activates 95% of the muscle and is able to send impulses to muscle fibers up to one hundred times faster, causing muscles to feel fatigued faster than a traditional weight training exercise, which is how it shrinks a two- or three-hour workout into just 25 minutes.
OHM Fitness is a special first-to-market franchise opportunity for entrepreneurs and experienced franchise industry professionals who are eager to capture their share in the $96 billion dollar fitness industry. The initial franchise fee is $39,000 and the total estimated initial investment ranges from $107,150 to $328,000. For more information about franchise opportunities available in your area, please visit http://www.OHMfitness.com or email Franchising@OHMfitness.com.
About OHM Fitness
OHM Fitness is one of the first franchises to deliver small group workouts using the highly-effective electrical muscle stimulation (EMS) through the use of wearable technology through its EMPower Suit. This high-tech fitness experience packs the benefits of an intense two-hour workout into a low-impact, 25-minute session with a low rate of wear and tear on the joints, ligaments, and muscles, in comparison to other HiiT workouts. Founded in Scottsdale, Ariz., OHM Fitness currently offers area developer and franchisee opportunities to qualifying entrepreneurs. For more information, please visit http://www.OHMfitness.com or email franchising@OHMFitness.com.