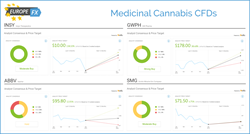 Our clients have expressed keen interest in this sector and as a company we are dedicated to meeting and exceeding client expectations.
LIMASSOL, Cyprus (PRWEB) January 18, 2019
After successfully adding nine new contracts for difference (CFDs) on leading Dutch stocks in early December, CySEC regulated Forex and CFD broker, EuropeFX, has added four new cannabis stocks to their already impressive line-up of CFDs.
These four new assets represent some of the most innovative companies active in the development of medical cannabis related goods or services. From the four new companies, three already have FDA approved products on the market. The fourth, Scotts Miracle Gro, is one of the oldest established hydroponics specialists in North America.
CFDs on the following medicinal cannabis stocks are now available on EuropeFX
GW Pharmaceuticals
The global leader in the development of cannabinoid-based medicines. Cannabidiol (approved in the United States as Epidiolex® by the Food and Drug Administration - FDA) is in development as a treatment for certain rare and catastrophic forms of childhood-onset epilepsy that currently lack significant treatment options.
AbbieVie Inc.
A pharmaceutical company currently marketing an DFA approved synthetic cannabis-based drug. Marinol alleviates nausea or vomiting for chemotherapy patients. The drug has also been effective with AIDS patients who have lost their appetite. While Marinol is a breakthrough drug, it's not AbbVie's flagship product or even their biggest seller.
Insys Therapeutics Inc
Insys aims to improve the quality of patient care by focusing on cannabinoids and other innovative drug delivery systems to address patient needs previously unmet. Their leadership team has accumulated decades of experience in biotechnology, pharmaceuticals, medical technology, life sciences, healthcare and Fortune 500 corporate management.
Scotts Miracle Gro
With a market cap in excess of $4.5 Billion, Scotts Miracle Gro is a serious entrant into the sector. A pioneer in the field of Hydroponics, SMG brings some serious financial muscle and business know how to the field of medical Cannabis. In April 2018 the company acquired Sunlight Supply in a deal estimated a $450 Million.
Commenting on the move, EuropeFX CEO Guy Illouz had this to say:
"The legalization of medical cannabis in the U.S. and the recent Cannabis Act passed in Canada have created a whole new sector for companies to operate in and for traders to invest in. While not a "mainstream" product, quoted companies active in the sphere of medical cannabis have to comply with the same regulatory guidelines as other companies listed on the same exchanges. Our clients have expressed keen interest in this sector and as a company we are dedicated to meeting and exceeding client expectations.