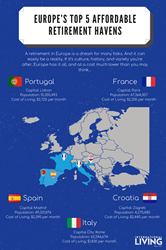 "Europe is affordable when you know where to go"
BALTIMORE (PRWEB) October 29, 2019
"Europe is affordable when you know where to go," says Dan Prescher, a senior editor with International Living. "People wrongly assume Europe is out of their reach, but that simply isn't true. With some guidance and research, there are plenty of wonderful European destinations that North American retirees can fit into their budget."
Helping with that affordability is the fact that many of European countries benefit from universal healthcare coverage and strong public healthcare systems, and even their private healthcare can be accessed for a sliver of the cost in the U.S.. Doctor's visits, for instance, can run well under $100, and other services are similarly reasonable.
Europe packs in so much diversity that the perfect retirement destination exists for almost everyone. Here are five countries in particular where an affordable retirement is within reach for North American retirees.
The appealing lifestyle and gorgeous scenery of Italy draw many expats to the peninsula and offers each their own tailor-made dream.
Italy has it all, from art cities to ancient hill towns to modern suburbs. The plentiful seacoasts appeal to beach lovers while the many mountains satisfy outdoorsy types and those who love to live all four seasons in their turn.
IL Italy Correspondent Valerie Fortney Schneider says, "The relaxed lifestyle in a glorious hill town can be yours, and it can be more affordable than you think. I paid just €30,000 for my small 300-year old home in the pedestrian lanes of a southern village."
Nicely furnished apartments on a cobbled street in a perfectly preserved medieval town can run just $500 a month, and in some cases even less. There are ready-to-go homes for sale for less than $70,000, even within an hour of Rome. Go south and find even better bargains.
Expat Jacqueline Sinatra lives in Spoleto, in the middle of Italy.
"Spoleto is a beautiful city of about 40,000 people," Says Jacqueline. "Our weekly grocery bill is typically under $50, and we buy a lot of organic and unusual food items. A bottle of wine can be had from $2 and up, with a great bottle costing as much as $7. Our apartment costs $480 per month, but you can purchase a beautiful home with some land for well under $200,000."
Aside from housing costs, the living expenses in Italy are fairly consistent around the country. In the right spot, a couple can live well for as little as $1,830 per month.
IL Portugal Correspondent Tricia Pimental moved overseas to experience a different lifestyle: one with the charm of Old-World Europe, where the pace was slower and the cost of living more affordable.
Tricia says, "My husband and I had lunch with friends on a Saturday afternoon. A three-course lunch with beverage at a modest eatery still runs about $10 per person. But we were celebrating an occasion, so opted for an upscale restaurant. Even there, the average main course was $34. Two bonuses were typically Portuguese: the restaurant was built into an atmospheric stone cellar, and it was family-run, a smoothly operating group with an obvious love of food and their clientele."
Tricia has discovered that rents average from $450 a month for a furnished, two-bedroom apartment in a small town to about $1,500 in the city with lower and higher options.
Including rent, a couple can live comfortably in Portugal's interior, or in small cities, from about $1,700 a month. A couple's budget in Lisbon starts at about $2,100 or $2,200 a month. Singles should plan on a budget of about two-thirds that of a couple.
France is a wealthy, First-World country, but the average French person only makes about $30,000 per year. Outside of high-glamor zones like Paris, Provence, and the sun-soaked towns of the Riviera, the cost of living and real estate can be surprisingly reasonable…yet the quality of life remains high.
"Sure, if you want to live in 6th Arrondissement in the center of Paris or in a Mediterranean resort town, it's going to cost. But there are also hundreds of properties in beautiful country towns and villages with all the work done at very affordable prices," says IL contributor Stewart Richmond.
"While many items are a similar price to items in North America, many are much, much cheaper. France has a thousand different cheeses and they start off at a tiny $1.15 for a home-brand camembert or brie. You can try a different cheese every day of the year without breaking the bank."
"Wine, beer and spirits are ridiculously cheap," says Stewart. "You will find a red or white from the hundreds in the local supermarket that suits your individual palate for around $3.50. You can get a supermarket baguette for 40 cents or an artisan baguette from the boulangerie for $1.15. French supermarkets are not allowed to throw food away, so there are always plenty of bargains."
In the right place, a couple can enjoy all France has to offer for $2,200 per month including rent.
Spain has long been one of the least-expensive countries in Europe. Of course, the cost of living varies by location and lifestyle. But Malaga, Alicante, and the Canary Islands are among the most affordable areas. Valencia, Granada, and Seville are also good-value.
IL Spain Correspondent Marsha Scarbrough moved to Spain in 2017, at the age of 70. She had visited the country for the first time the year before and spent six weeks traveling around on her own. She had been searching for the perfect, affordable retirement destination for some time.
"For me, the greatest savings come from not needing to own a car," says Marsha. "As a senior resident, I have unlimited access to the efficient metro and bus system for $13.80 per month. If I splurge for a taxi, it's usually around $11."
A couple could live in a mid-sized city like Alicante for $2,409 per month.
Croatia
Croatia has long been a favorite destination for European vacationers. For decades they flocked to its beaches and walled towns when it was a part of the former country of Yugoslavia. In recent years, Croatia has become increasingly popular, thanks to many of its landscapes being featured in the HBO series Game of Thrones.
Split is Croatia's second-largest city and home to the 1,700-year-old palace built by Roman Emperor Diocletian. Unlike ruins elsewhere in Europe, Diocletian's Palace is still home to many locals—a legacy of the security the palace walls offered after the fall of the Roman Empire.
"I stayed in Podstrana once (just south of Split) and Okrug Gornji (just north of Split) twice," says part-time expat Beth Hoke. "Split was easily accessible from both locations via public transportation, but the housing costs were a bit lower [outside of Split]," Beth says.
"In Podstrana, I was right on the beach and in Okrug Gornji, I was within a 10- to 15-minute walk from the beach. I stayed in Okrug Gornji in late spring/early summer and Podstrana in late autumn/early winter. I paid the same for both two-bedroom apartments— between $475 and $500 per month."
A couple can live well here for between $2,050 and $2,840 per month.
More information on these five affordable European retirement destination — and one more bonus destination — can be found at Europe's Top 5 Affordable Retirement Havens.
Editor's Note: Members of the media have permission to republish the article linked above once credit is given to Internationalliving.com.
Further information, as well as interviews with expert authors for radio, TV or print, is available on request. Photos are also available.
For information about InternationalLiving.com content republishing, source material or to book an interview with one of our experts, contact PR Managing Editor, Marita Kelly, +001 667 312 3532, mkelly@internationalliving.com
Twitter: @inliving
Facebook: https://www.facebook.com/International.Living/
About International Living
Since 1979, Internationaliving.com has been the leading authority for anyone looking for global retirement or relocation opportunities. Through its monthly magazine and related e-letters, extensive website, podcasts, online bookstore, and events held around the world, InternationalLiving.com provides information and services to help its readers live better, travel farther, have more fun, save more money, and find better business opportunities when they expand their world beyond their own shores. InternationalLiving.com has more than 200 correspondents traveling the globe, investigating the best opportunities for travel, retirement, real estate, and investment.