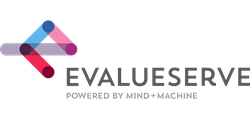 RALEIGH, N.C. (PRWEB) September 14, 2020
Evalueserve, a global analytics firm, has partnered with Synthesis Technology to bolster its solutions to Asset & Wealth Managers. The partnership will enhance Publishwise, Evalueserve's proprietary Content Management Platform, by integrating it with Synthesis to provide a centralized data solution with automated data sourcing, validation and calculations, enhancing and expediting the production of Factsheets and various marketing collateral such as sales brochures, product ideas etc.
Marketing departments at Investment Management firms are under constant pressure to produce time-sensitive and highly templated materials, as well as generate relevant and insightful content to aid the sales process. The combined power of Publishwise and Synthesis addresses common challenges in the market posed by fragmented and inconsistent data sources feeding into vast quantities of documents and flowing into multiple technology platforms for different processes.
Ashutosh Gupta, Evalueserve's co-CEO, says, "It is becoming important for Asset & Wealth Management firms to drive enhanced customer experience. We are seeing significant trends where the pace of digital transformation within Marketing functions has accelerated, especially in the recent climate".
By automating the data and templated documents and providing curated and contextual insights to bespoke literature, the solution facilitates the production of all periodic form-based documents as well as highly insightful and relevant content, covering the spectrum from factsheets to strategy documents and sales ideas.
Synthesis Technology CEO, John Toepfer, added, "Asset managers are challenged with delivering a great client experience at scale. Marketing teams run into issues when their solutions do not adequately address the data delivery piece of the equation. Speed and quality of data is the true differentiator in this highly competitive environment. Together, Synthesis and Evalueserve provide asset managers with a unique combination of tools and services to enable them to be successful while reducing costs".
About Evalueserve
Evalueserve is a leading analytics partner that helps clients increase the effectiveness and efficiency of their core processes by applying a unique mind+machine™ methodology. For over 25% of the Fortune 1000, mind+machine™ weaves human expertise with digital products & platforms to build analytics' capabilities that enable successful business outcomes.
About Synthesis
Synthesis Technology delivers integrated data and content automation solutions to the investment management industry. Our solutions help sales and marketing teams deliver a truly customer-centric experience at scale and grow AuM, without adding more staff and costs. For more information, visit http://www.synthesistechnology.com.
Contact Us
For more information about Evalueserve, visit: https://www.evalueserve.com/
For interview requests and any other information, please contact Radhika Mathur at radhika.mathur@evalueserve.com