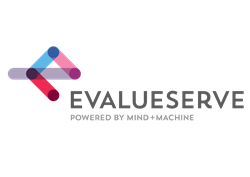 SCHAFFHAUSEN, Switzerland (PRWEB) December 03, 2020
Evalueserve, a leading analytics partner to Fortune 500 companies, and TADA Cognitive Solutions are helping supply chain leaders in the consumer products and industrial manufacturing industry gain resiliency in their supply chains and accelerate their digital transformation initiatives through advanced supply chain expertise and solutions.
One of the first functions to get disrupted in the post-Covid world was the "Supply Chain". Now, supply chain leaders are focusing on making their supply chains more resilient and transparent. Evalueserve's partnership with TADA will provide clients with end-to-end visibility of their supply chain in real-time, along with a collaboration platform enabling multiple parties in the supply chain to come together. TADA's "Digital Duplicate" maps and connects all supply chain data for agile, intuitive, and efficient decision-making. Combined with Evalueserve's supply chain and digital transformation capabilities, clients will be able to orchestrate their supply chain and tie all of these elements together.
Ravi Mehrotra, Evalueserve's co-CEO, says, "The disruption that Covid-19 has caused can be felt by each node of the supply chain of all sizes. No matter how large or small, the resilience, flexibility, and foresight of organizations' supply chains can mean the difference between thriving or surviving. With TADA, we will strengthen our clients' ability to gain full visibility to their supply chain, bring transparency to all participants, and foster collaboration across multiple functional areas to orchestrate effective planning and decision-making".
"Key supply chain leaders are pressured to bring resiliency and speed to their decisions. Many of the pitfalls that organizations face when leveraging data to create supply chain insights centers around adoption challenges, non-alignment on decisions from key players, and long lead times to value delivery", said Seshadri Guha, CEO of TADA. "Together with Evalueserve, we will provide supply chain leaders with the speed, visibility and communication needed to stay ahead in an ever-shifting landscape".
About TADA Cognitive Solutions
TADA is an intelligent digital orchestration platform that is reimagining how enterprises approach digital transformation, at unprecedented speeds. TADA uses Synaptic data networks and cognitive technologies to model, create and store the Digital Duplicate™ of the business ecosystem. The TADA platform ingests data from varied sources and synthesizes it into this semantic model, thereby enabling infinite navigation, advanced analytics, intuitive decision-making and intelligent digital orchestration of key business processes. For more information about TADA, visit http://www.TADAcognitive.com. Press Contact: Jennifer Shields at jshields@TADA.today
About Evalueserve
Evalueserve is a leading analytics partner that helps clients increase the effectiveness and efficiency of their core processes by applying a unique mind+machine™ methodology. For over 25% of the Fortune 1000, mind+machine™ weaves human expertise with digital products and platforms to build analytics capabilities that enable successful business outcomes. For more information, visit http://www.evalueserve.com .
Contact Us
For interview requests and any other information, please contact Radhika Mathur at radhika.mathur@evalueserve.com