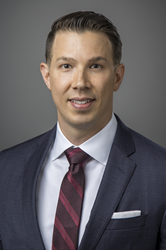 "I'm honored to be appointed to the Employment Security Advisory Board," Murphy said. "I look forward to working with businesses and collaborating with the advisory board by leveraging my experience to improve the health of the unemployment system in a sustainable way."
WEST SPRINGFIELD, Mass. (PRWEB) February 20, 2023
Unemployment Tax Control Associates, Inc. (UTCA), a national unemployment insurance service provider based in West Springfield with an office in Boston, today announced that Principal Evan Murphy has been appointed to Connecticut's Employment Security Advisory Board. The eight-member board advises state administrators on matters pertaining to the policy and administration of the Employment Security Division.
A UTCA employee for over 10 years, Murphy oversees analysis, implementation, and client success efforts to reduce the cost and complexity of employer unemployment insurance programs. He facilitates educational seminars for customers, industry associations, and various employer groups across the country. He has been instrumental in helping businesses of all sizes and scopes effectively understand and control their unemployment cost and compliance.
"I'm honored to be appointed to the Employment Security Advisory Board," Murphy said. "I look forward to working with businesses and collaborating with the advisory board by leveraging my experience to improve the health of the unemployment system in a sustainable way."
Murphy was appointed by Rep. Jason Rojas, the majority leader of Connecticut's House of Representatives. "I am delighted that Evan is joining the Employment Security Advisory Board," Rojas said. "I'm confident that the knowledge and experience he brings to this position will be of great value to the board and in helping to navigate the unemployment insurance challenges facing the state in the aftermath of the pandemic."
"Connecticut has come up with great unemployment reforms going into 2024, but still has challenges moving out of the pandemic," Murphy said. "I'm committed to working on strategies to get through the current state and contribute to a strong and healthy future for all employers and their workers."
UTCA specializes in unemployment claims management, focusing on long-term planning. Their strong commitment to educating their client base helps companies effectively manage the factors that drive unemployment costs.
About Unemployment Tax Control Associates
Unemployment Tax Control Associates, Inc. (UTCA) is a service leader providing highly effective unemployment insurance cost management and reduction strategies to employers nationally. UTCA employs this industry's most knowledgeable staff of professionals, including their own in-house legal staff, claim analysts, appeal administrators, hearing representatives and tax consultants. UTCA assists clients in reducing the costs and complexities of managing their unemployment compensation programs, utilizing a unique pre-emptive approach to dramatically reducing unemployment costs. By providing unparalleled customer solutions, they have earned a reputation as the "blue chip" company in the field of unemployment cost management. For more information, visit utcainc.com.
###