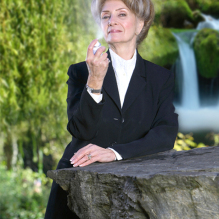 GRANTS PASS, Ore. (PRWEB) May 02, 2019
Date aired: April 16, 2018
Guest: Dr. Neil S. Grigg
Dr. Neil S. Grigg is a Professor of Civil and Environmental Engineering at Colorado State University, and an experienced educator, researcher, consulting engineer and public official. Grigg's focus is on water management and institutions, water rights, water supplies, state water planning, water law, policy and regulation, infrastructure development and water security. Grigg is also a staunch supporter of Sharon Kleyne's groundbreaking research in evaporation. "Managing water," Grigg says, "means understanding and dealing with evaporation."
Joining Kleyne on her nationally syndicated radio program, The Sharon Kleyne Hour Power of Water, Global Climate Change and Your Health on VoiceAmerica sponsored by Nature's Tears® EyeMist®. Grigg also supported Kleyne's frequent assessments regarding soil issues. "We must make sure that soil isn't too dry. Farmland must be moist. If water is scarce," Grigg added, "soil will remain sterile and won't be able to produce the living microorganisms that enrich soil life." Kleyne added that people need to remember this: soil is a living organism.
Grigg has worked on projects in Africa, Asia and Latin America, and he engaged Kleyne in a rousing discussion of a number of global water concerns such as climate change and water recycling. Grigg stressed the importance of people distinguishing between climate and weather. Weather is what is happening—rain, cold, hotness—at any given moment; climate is the bigger picture. "I think most people agree that the climate around the world is changing," Grigg said. "It's heating up. The question, mostly political, is what are we humans doing to contribute to that heating process and how might we reverse the damage?"
Kleyne reminded listeners that water vapor in the air—the atmosphere—defines the climate. "For example," Kleyne said, "there is less water in arid Colorado than in humid Louisiana." Grigg expects that new technology will be developed to deal more effectively with climate change, but we'll also see climate-induced migrations, especially in places like Asia and Africa where water can often be scarce. Another example of climate-induced migration would be our own Dustbowl experience in the 1920s and 30s.
One technology development that is already underway in many global locations is urban green roof technology. This refers to city dwellers growing gardens and lawns on the roofs of their buildings. These plants replenish the earth's water vapor and cool cities down at the same time.
Kleyne and Grigg also discussed water recycling efforts in the Middle East. Grigg described how Saudi Arabia has taken drastic measures to de-salt ocean water out of the Persian Gulf. Grigg also noted a stumbling block as many in the Middle East will have to reconcile water management practices with their religious beliefs. According to the Koran, for instance, use of recycled waste water would be prohibited, but in the near future it may be inevitable.
"Water is the breath of life," said Kleyne, founder and research director of Bio-Logic Aqua® Research Water Life Science® in Grants Pass, Oregon. who teaches that everything about you is water, said "Your body water is your life. You are living with and in the atmosphere's water vapor. Water Life Science® must become a priority for everyone on earth."