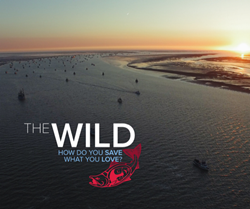 "This is our last chance to get it right for wild salmon," proclaims The Wild's Director Mark Titus. "Bristol Bay is home to the last fully intact self-sustaining salmon ecosystem and culture on our planet."
SEATTLE (PRWEB) June 12, 2020
While COVID-19 has generated a frightening maelstrom for most Americans, it's also created the perfect storm for a Canadian mining company's quest to permit a mine in a pristine salmon habitat in Alaska. The pandemic has spawned innovation-by-necessity for a documentary film's growing movement to raise awareness about what could be lost forever if this mine is approved.
The film, The Wild and the mining project, Pebble Mine, are both talking about the same pristine location in Alaska, but their outlooks on what a post COVID-19 world might look like couldn't be more different.
The Pebble Mine is a controversial project that if green-lit would permit a foreign company to excavate North America's largest open-pit copper and gold mine directly in the headwaters of the last fully-intact wild salmon system on Earth – in Bristol Bay, Alaska. Despite emphatic urging to delay the permitting process from residents and stakeholders in Bristol Bay's annual $1.5 billion-dollar salmon fishery, The U.S. Army Corps of Engineers (USACE) is sticking to its original timeline to issue a decision by the end of August.
"This is our last chance to get it right for wild salmon," proclaims The Wild's Director Mark Titus. "Bristol Bay is home to the last fully intact self-sustaining salmon ecosystem and culture on our planet."
How do the people of Bristol Bay attempt to save what they love? That's exactly the question Titus asks in The Wild, a multi-festival award winning documentary. What started as a passion project is now a movement, not just for Alaska residents, but for: celebrities, fishermen, businesses, fishing companies, educators, influencers, chefs, tribes and former lawmakers around the country to raise awareness about what could be lost forever if this mine is approved. This is why they care:

The EPA estimates the mine could grow to be nearly as deep as the Grand Canyon, cover an area larger than Manhattan, and could fill a major football stadium up to 3,900 times with mine waste
This proposed low-grade Sulphur mine would be located upstream of two of the world's most productive salmon-bearing river systems
The location is in a seismically active region as Alaska experiences upward of 10,000 earthquakes each year; expecting an earthen dam to hold back toxic waste is questionable at best
Indigenous people and others stand to lose a generations-old culture and an organic food supply that could last forever if undisturbed
This could threaten the $1.8 BILLION fishing industry, 14,000 American jobs and nearly half of the world's supply of sockeye salmon.
Taking cues from the success of Fabulous Fungi's Theatrical Distributor Kirt Eftekhar, The Wild will be released virtually. Eftekhar and Titus have partnered to create not just a screening, but an experience, which will include the movie, call-to-action for participants, wild salmon cooking demonstrations and an all-star panel to participate in virtual Q&As after each livestream event with luminaries from the film including such as actor Mark Harmon, chef Tom Colicchio, artist Zaria Forman and Congressional Gold Medal recipient, Steve Gleason.
For screening information, additional tour dates, and how readers can take action, go to: http://www.evaswild.com.
A portion of every ticket sale and transaction goes to defend Bristol Bay.
Eva's Wild is an impact brand curating authentic storytelling that reveres the wild in ourselves and on our home planet.