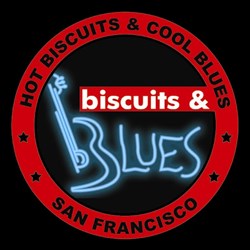 Preserving The Blues
San Francisco, CA (PRWEB) September 03, 2013
San Francisco's top spot for blues, Biscuits & Blues is excited to announce their live performances for the month of September. Known for the talent on their lineups and their intimate venue space, Biscuits & Blues is known nationwide as the best place to catch live blues music.
On Wednesday, September 4, Southern Hospitality will be on stage at 8 p.m. and 10 p.m. The three artists are musician's musicians, each bringing a unique style and fresh translation of the great Southern soul, blues, and rock music that came before them. Together, their mutual chemistry, high energy and skill sets create a cohesive vision, with echoes of Muscle Shoals and Macon that organically flows together into an entirely original and dynamic form of Americana, Southern soul roots music with a modern sensibility. Tickets for this show are $20.
On Thursday and Friday, September 5 and 6, the incredibly talented Lucky Peterson will take the stage at 8 p.m. and 10 p.m. Lucky Peterson is the most dangerous triple threat working in the blues. Nobody would refute his reputation as one of the preeminent performers of the modern era. A searing lead guitarist, fantastic organist, and first-rate vocalist, Lucky's many talents are truly mind-boggling. Tickets for these shows are $25.
On Saturday, September 7, The very talented and lovely Lavay Smith & Her Red Hot Skillet Lickers take the stage for two shows at 7:30 p.m. & 10 p.m. Lavay Smith is internationally recognized as The Queen Of Classic Jazz & Blues in the authentic style of the 1940's and 1950's. Lavay Smith and her band pays tribute to the swingin' Kansas City tradition, featuring the music of Count Basie, Jimmy Rushing, Joe Williams, Helen Humes, Lester Young, Jay McShann, Walter Brown, Jimmy Witherspoon, Myra Taylor & Big Joe Turner! Tickets for her show are $20.
On Friday, September 13, Biscuits & Blues Presents the one and only Andrew Jr. Boy Jones for two shows at 8 p.m. & 10 p.m. "Boy Jones" plays with a confident precision, crispy and cleanly, with a string bending style reminiscent of a former mentor, but also he was possessed of a powerful voice, a smoky baritone which suggested that of say an Otis Rush. Moreover, the repertoire he unveils is fresh and many of his own compositions were both clever and humorous, the latter quality seemingly so lacking in the songs of today. Tickets for his show are $20.
On Saturday, September 14, singer/songwriter Karen Lovely heads to the stage at Biscuits & Blues for two shows at 7:30 p.m. & 10 p.m. Karen Lovely shot onto the blues scene from the Pacific Northwest like Stack O' Lee's. Backed by a stellar band, this powerhouse vocalist delivers a blistering mix of contemporary and old school blues. Lovely's standout performances have garnered awards, critical acclaim and standing ovations at festivals and venues throughout the U.S., Canada and Europe. Tickets for her show are $22.
On Tuesday and Wednesday, September 17 and 18, The Bob Malone Band will tear up the Biscuits & Blues stage for two amazing shows at 8 p.m. & 10 p.m. Malone appeals to the roots and Blues audience with heartfelt ballads, nuanced arrangements and a never-ending tour schedule. Tickets for the showare $15.
On Thursday and Friday, September 19 and 20, Selwyn Birchwood plays alongside special guest Sonny Rhodes for two special shows at 8 p.m. & 10 p.m. The Selwyn Birchwood Band has made a significant impact on fans throughout their home state of Florida at clubs and festivals alike as they have continuously wowed audiences with their high-energy performances rooted deeply in the traditions of the blues greats. They perform a hip shaking, roof rattling mix of blues that has won over countless fans. Tickets for the show are $20/$22.
On Saturday, September 21, Singer/Songwriter James Harman brings his spectacular sound to the Biscuits & Blues stage for two shows at 7:30 p.m. & 10 p.m. James Harman was born and raised in Anniston, Alabama-quickly picked up on the black blues and soul music being played on juke boxes and the radio. He has paved his own path in the blues scene and is well known for his talents behind the harmonica. James Harman is in high demand for his own shows, as well as a backing artist for every living blues artist who was touring without a band. Tickets for his show are $22.
On Sunday, September 22, Biscuits & Blues is proud to present the Brad Wilson Blues Band for two shows at 7 p.m. & 9 p.m. Brad Wilson is a California guitar slinger who plays rocked-up blues and is a charismatic and talented guitarist, vocalist and songwriter. Performing over 100 shows a year; Brad has become known as a smokin' hot Blues player who can rock the house all night long with the best of them. His songwriting has a hard-charging Americana/Blues/Roots style. His guitar playing is contemporary blues and he can rip on lead. Brad's live show is presented with spirit and class. Tickets for the show are $15.
On Friday, September 27, the talented singer/songwriter Shane Dwight plays the stage of Biscuits & Blues for two shows at 8 p.m. & 10 p.m. Shane Dwight is a talented musician and an impressive songwriter. Dwight's guitar playing is as substantial as his songwriting. Tough, lean guitar work and commanding vocals, he is a tour de force. Shane is a killer songwriter, singer, and guitarist and performer; he is an artist who's creating a soulful Americana sound. Tickets for the show are $22.
On Saturday, September 28, Earl Thomas & The Blues Ambassadors bless the stage of Biscuits & Blues for two shows at 7:30 p.m. & 10 p.m. The Blues Ambassadors are fast becoming a national sensation. People are talking about this slick bay area blues band, their dynamic stage show, and interesting cultural mix of African American, Middle Eastern, European, and Latino musicians. Their "last Saturday of the month" residency is the hot ticket in San Francisco drawing regular SRO crowds of dedicated fans. Lead singer Earl Thomas sums up their success, "We just set a goal that within a year our show would be so popular that the only way to get in to see it was if you knew somebody!" Earl Thomas & Blues Ambassadors is the show not to be missed! Tickets for the show are $24.
Finally, on Sunday, September 29, Biscuits & Blues will be hosting the Golden Gate Blues Society IBC Regional Final starting at 5:30 p.m. The 2014 International Blues Challenge will be the 30th year of Blues musicians from around the world competing for cash, prizes, and industry recognition. The Blues Foundation will present the 30th International Blues Challenge January 21-25, 2014 in Memphis, TN. Biscuits & Blues will be hosting the Bay Area's Golden Gate Blues Society Regional Final, where the winner will represent the Bay Area in Memphis. Sure to be an exciting night of competitive blues with the best blues bands of the Bay Area. Tickets for the show are $20.
Biscuits & Blues is also featuring new menu items. Start off the night with an appetizer like catfish fingers and jalapeno tartar sauce or the Cajun fried calamari. Some of the new entrées include grilled catfish and shrimp & grits. Complete the meal with a scrumptious blackberry peach cobbler.
To plan a fantastic night full of blues, a delicious meal and cocktails, please visit the Biscuits & Blues website: http://www.biscuitsandblues.com.
About the company:
Biscuits & Blues is a full restaurant, bar, and nightclub and one of the reasons why San Francisco is on the map for music lovers. Located at 401 Mason St. at Geary, they have been voted America's #1 Blues nightclub by the Blues Foundation and the Bay Area Blues Society. It is San Francisco's home to great live music in an intimate setting, where everyone gets a front row seat. Biscuits & Blues features savory award-winning Southern-style cuisine, California wines, micro-brews, and specialty cocktails – all at reasonable prices that please tourists and our loyal Bay Area clientele. Biscuits & Blues is also an event venue for parties. They can host everything from office parties to family reunions. For more information and current lineup, please visit their website.