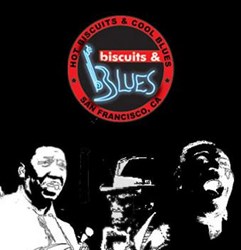 San Francisco, CA (PRWEB) November 01, 2013
San Francisco's top spot for blues, Biscuits & Blues, is excited to announce a slate of upcoming live performances, including its Halloween show and shows throughout the month of November. Known for the talent on its lineups and its intimate venue space, Biscuits & Blues has become known around the country as a premier location for live blues music.
On Halloween night, Thursday, Oct. 31, the one and only RJ Mischo comes to the Biscuits & Blues stage for two "spooktacular" shows at 7 and 9 p.m. Costumes are welcome and prizes will be handed out to the best costume in the house.
RJ Mischo scoops up everyday life and personal experiences and funnels them through his harp and vocals. What pours out is the hot-blooded passion, playful humor and high-voltage energy of blues. Mischo tours worldwide as a performing artist in blues festivals and clubs with his own Red Hot Blues band. Mischo brings a performance that is earth-shattering and not to be missed. Tickets for this special event are $15.
Biscuits & Blues also announces changes in daily show times, starting Nov. 1. New changes for weekly show scheduling are as follows: Tuesday, Wednesday, Thursday and Sunday show times will be at 7:30 and 9:30 p.m.; Friday and Saturday night shows will begin at 7:30 p.m., with the second show to follow at 10 p.m.
November's lineup at Biscuits & Blues is a spectacular mix of artists and a wide array of amazing talent. Performers scheduled for November at Biscuits & Blues are: Sonny Rhodes, Sista Monica, Alan Iglesias, Café R& B, Kevin Selfe & The Tornadoes, Paula Harris, Macy Blackman & the Mighty Fines, Jarekus Singleton and Sean Chambers.
The entire Biscuits & Blues November lineup can be found online at http://www.biscuitsandblues.com/lineup. Biscuits & Blues is also featuring a completely revamped menu. Meals begin with appetizers like catfish fingers and jalapeno tartar sauce or the Cajun-fried calamari. New entrees include grilled catfish, and shrimp and grits. Complete the meal with a scrumptious blackberry-peach cobbler. For more information, visit http://www.biscuitsandblues.com.
About the company:
Biscuits & Blues is a full restaurant, bar, and nightclub and one of the reasons why San Francisco is on the map for music lovers. Located at 401 Mason St. at Geary, they have been voted America's #1 Blues nightclub by the Blues Foundation and the Bay Area Blues Society. It is San Francisco's home to great live music in an intimate setting, where everyone gets a front row seat. Biscuits & Blues features savory award-winning Southern-style cuisine, California wines, micro-brews, and specialty cocktails – all at reasonable prices that please tourists and our loyal Bay Area clientele. Biscuits & Blues is also an event venue for parties. They can host everything from office parties to family reunions. For more information and current lineup, please visit their website.