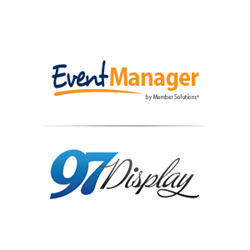 We are thrilled to partner with 97 Display. The ability for our technologies to integrate is extremely beneficial to our mutual clients' operational workflow.
Hatboro, Pennsylvania (PRWEB) January 19, 2016
Member Solutions, the leading provider of full-service membership billing, payment processing, business management software and advisory services for Martial Arts, Fitness and Health-related businesses, today announced the integration of its online event registration software, Event Manager, with 97 Display Martial Arts and Fitness Business websites. This solution combines Event Manager's robust online registration and payment processing capabilities with 97 Display's powerful, SEO-optimized websites — enabling mutual clients to optimize lead generation, event registrations and revenue.
"We are thrilled to partner with 97 Display," said Kristie Matheson, President of Member Solutions. "The ability for our technologies to integrate is extremely beneficial to our mutual clients' operational workflow. More than that, pairing the Event Manager and 97 Display products offers a sure way for our clients to enrich their website, improve the event registration experience for their customers, increase leads and ultimately increase revenue."
Membership businesses of all kinds — including Martial Arts schools and Fitness clubs — use Event Manager software to take registrations and payments online for events such as camps, seminars, tournaments, classes and birthday parties. The software also includes a full set of built-in management and marketing utilities including the ability to send mass emails to targeted audiences, sell products and services during registration, and offer split pay, installments and deposits to make fees more financially-manageable for registrants.
Through the new integration, mutual clients of Event Manager software and 97 Display can synchronize their current list of active events to create a dynamic events page on their 97 Display website. Any changes made in Event Manager will be reflected on the client's 97 Display website to present the most up-to-date event listing online.
"Events are huge lead and revenue generators for Martial Arts and Fitness businesses", says Timothy Sarazen, Director of Operations for 97 Display. "The new integration with Event Manager software is really the perfect way to effortlessly promote events online. We're extremely excited about this integration partnership and the tremendous value it delivers to mutual clients."
About 97 Display
97 Display is an Internet marketing agency that provides websites, search engine optimization, digital advertisements, video marketing and conversion tools for Martial Arts and Fitness businesses. All websites created by 97 Display are responsive, SEO-optimized and built to convert website visitors to leads. For more information, visit 97display.com.
About Member Solutions
Since 1991, Member Solutions has built its business on an unwavering commitment to serving clients in the Martial Arts and other Fitness market segments. The company operates a proprietary payment processing platform, and is the leading provider of billing, servicing and business support to more than 3,000 membership businesses in the United States, Canada and Australia. The company also offers myVolo web-based software for front-desk member management and Event Manager online registration software. Both software solutions are fully integrated with the company's Level One PCI-compliant payment processing platform. For more information, visit MemberSolutions.com.